New to little Indiana? Subscribe for free to my RSS feed. Thanks for stopping by!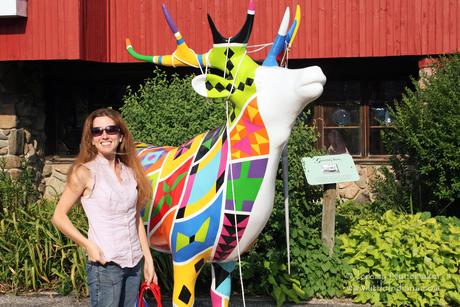 Amish Acres: Nappanee, Indiana Before the Threshers Dinner
Nappanee, Indiana
Served family-style, this is a table-buckling kind of dinner that invites you to push up your sleeves and dig on in!
Amish Acres Threshers Dinner in Nappanee, Indiana
The last time I had been to Amish Acres Threshers Dinner I was probably in sixth grade–and I left my Summer League Bowling Jacket there. Even then I was awesome.
Bright blue and embroidered with my name, well, you didn't happen to see it did you?
Some things, thankfully, do not change. In a time when there are  cut-backs and cheap-outs, Amish Acres Threshers Dinner was as good as ever.
The image of me at Amish Acres above would be before we had the Threshers Dinner. You know, before I had to undo the top button of my pants!
Indiana Amish Recipes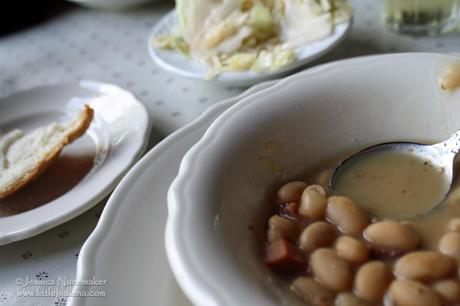 Amish Acres in Nappanee, Indiana Threshers Dinner
Kidding aside, the Amish are known for plain and simple food–and Amish Acres has stuck to that creed.
Everything is wholesome and really good.
Meant to mimic a traditional threshers dinner, when Amish families would gather together at a host farm to share a large meal during the harvest, this meal is served family style among your group. You can feel free to ask for more of anything. If you have the room!
We had heard that the Fried Chicken was very good. In fact, it seemed to be a common favorite among Elkhart County folks.
Amish Acres Food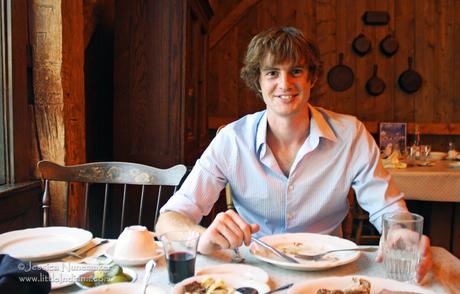 Amish Acres in Nappanee, Indiana Mr. little Indiana
Hubs and I giggled a little. I mean, we had a table full of food for just the two of us! I bet you could hear the table groaning from there.
There were  Amish Ham and Beans, fresh bread, fried chicken, beef and noodles, green beans, and then some.
My favorites were the Amish Ham and Beans, the bread, Beef, and the dessert–but that's for another post! Hubs liked the Beef and Noodles, Amish Ham and Beans, and the Fried Chicken the best.
Go There
The Threshers Dinner is set in a really neat building. Large windows and high ceilings with hand-hewn timbers from an 1870 barn were rebuilt here in 1977. Loads of light and great atmosphere combine!
Find more Nappanee, Indiana images and other pictures in Indiana on my Flickr photostream.
Amish Acres Threshers Dinner
1234 West Market Street
Nappanee, Indiana 46550
574.773.2011

View Larger Map
Thanks again to Elkhart County and Amish Acres for the free meal. Opinions, as always, are mine and mine alone.
little Indiana: Where to Stay, Play, and Eat in Small Towns in Indiana. Discovering Indiana's best small towns! Now get little Indiana on your Kindle.
Targeted. Relevant. Affordable! little Indiana advertising.