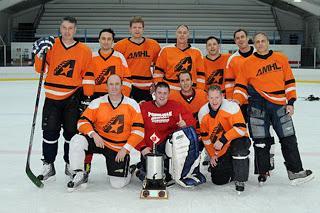 "Blitzen," "Kevin Mac," "Snow Miser," "the Grinch," and the other Cup-winning characters
December 20, 2011
Concord, MA
"(Mike) DeLeo's like Bumble: He bounces," says the AMHL Photographer as the ever-ebullient Penguin rises from the ice in the second period. His team has not yeti scored on Tyler "the Grinch" Boudreau and trail by three goals.
The Orange and Black, whose cast of characters include goal scorers Peter "Blitzen" Standish and Kevin "Home Alone" McCallister-MacDonald maintain their 3–0 lead as the second period continues.
"Pay attention!" yells Mac, the palms of his gloves flush against his helmet, from the bench as the teams prepare for a face-off in the Flyers' zone.
His teammates seem a-snooze like the Whos on Christmas Eve, and the Flyers control the puck. But the Grinch, ultimately a benevolent character and on the same team as the Whos, well, that ol' nasty-wasty weasel slinks and slunks all about his crease. He makes save after save, leaving the Penguins muttering like
Yukon Cornelius
, the misfit seeker of silver or gold who always comes up empty. "Nothin'."
Boudreau continues his convincing performance into the final scene, er, period. And his teammate, Jay "
Snow Miser"
Muelhoefer puts the victory on ice with the Flyers' fourth goal. And all the reindeer loved him, shouting out with glee, "We'll go down in history!"
And DeLeo (who, unlike the Abominable Snow Monster, appears to have all his choppers), will bounce back as he is wont to do, to participate in two more reindeer, er, championship games this week.