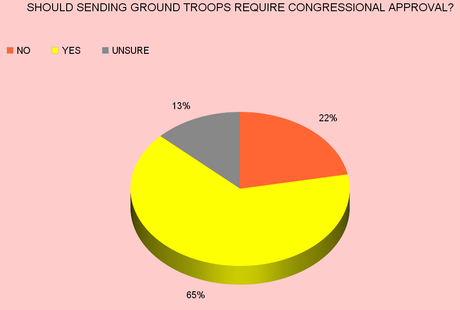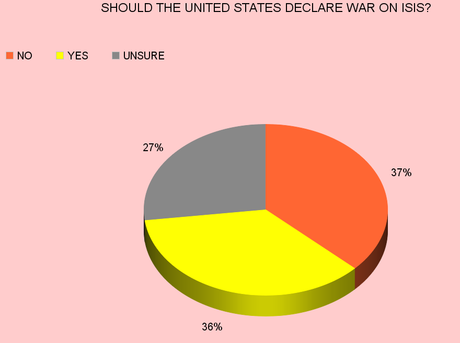 The charts above reflect the numbers contained in a new Rasmussen Poll -- done on December 7th and 8th of a random national sample of 1,000 likely voters, with a margin of error of 3 points.
President Obama has authorized bombing in Iraq and Syria to stymie the efforts of ISIS to take over those countries, and turn them into theocratic dictatorships -- and about 65% of all Americans support that action by the president. But that is not all the president has done. After saying he would not put American troops "boots on the ground" in those countries, he has broken his own promise by sending more than 3,000 soldiers to Iraq. And that is a move Americans are loathe to support.
As these charts show, only 22% of the American public thinks the president should put ground troops in Iraq or Syria with congressional approval -- and only 36% would be in favor of Congress declaring war on ISIS (as suggested by Senator Rand Paul). Declaring war would authorize the president to send as many troops as he wants, but that is not what the people want. They want our involvement to be a limited one -- limited only to the bombing campaign, and involving no American ground troops.