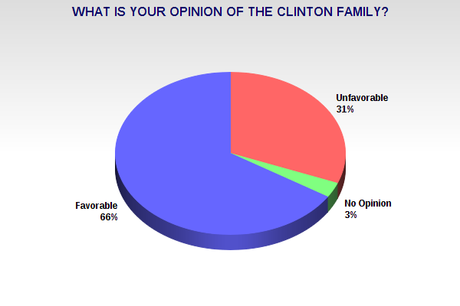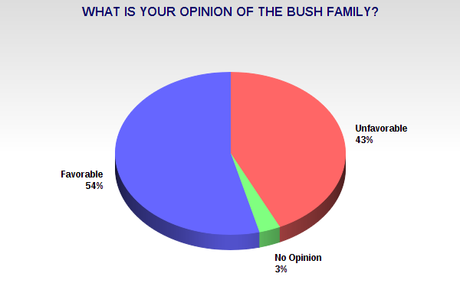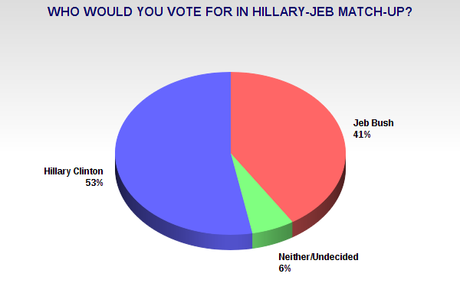 If Hillary Clinton were to win the 2016 presidential election, it would mean that 6 out of the last 8 presidential elections would have been won by a member of either the Clinton or Bush family. And with the growing possibility of Jeb Bush being the GOP nominee to run against Hillary Clinton in 2016, that would insure that 6 out of 8 for the two families.
This prompts the question -- what does the American public think of the Clinton and Bush families? Are they tired of either a Bush or Clinton being president? If not, would they prefer a Bush or a Clinton in the White House next? A new Washington Post / ABC News Poll tries to answer those questions. They surveyed a random national sample of 1,000 adults between April 24th and 27th, and their survey has a margin of error of about 3.5 points.
It seems that the prospect of another member of those two families wouldn't upset Americans too much, because they like both families. The public gives the Bush family a 54% favorable rating. That's not bad, but it is 12 points lower than the 66% favorable rating they gave the Clinton family. And looking at that, it should be no surprise that they prefer the next president be Hillary Clinton instead of Jeb Bush (53% to 41%).
That same poll also surveyed Republicans on who they want to be their nominee in 2016 -- and they got the same general answer as other polls. That answer is that their is no favorite in the GOP race for president, with no candidate getting as much as 15% support. It's still a wide open race for the GOP.