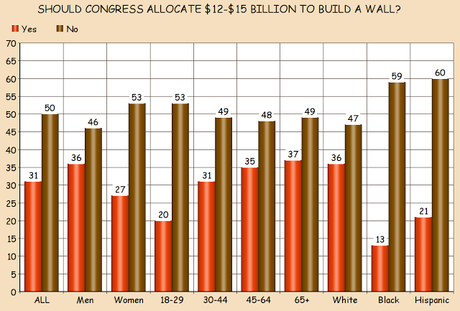 During his campaign, Donald Trump promised to build a wall on our Southern border (between the United States and Mexico). He promised also to force Mexico to pay for that wall. It has always been obvious to rational people that there is no way to force Mexico to pay for it, and Trump is now asking Congress to give him the money for the wall (between $12 and $15 billion).
Trump is still saying he'll make Mexico pay the money back, but no one believes that anymore (except perhaps the most devout trumpistas), and the public doesn't want to pay for the silly wall. About half of the public (50%) say Congress should not allocate money for the wall, while only 31% say they should -- a significant 19 point difference.
Trump has also floated the idea of taxing Mexican imports by as much as 20% to pay for the wall, as though that was a way he could make Mexico pay. The problem is that Mexico wouldn't be paying that tax -- American consumers would be paying it. And the public, not as stupid as Trump seems to think they are, knows that. They also oppose that ridiculous tax (29% support - 46% oppose) -- a 17 point gap.
Trump may get his wall, but it will be against the wishes of the American public.
These charts were made from information in a recent Economist / YouGov Poll -- done between January 28th and 31st of a random national sample of 1,500 adults (including 1,278 registered voters), with a 3.1 point margin of error.