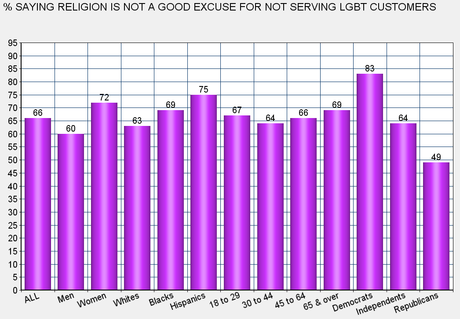 A few days ago I posted the results of a couple of polls (Reuters/Ipsos and NBC News) that showed a significant majority of Americans opposed using religion as an excuse to discriminate against gays and lesbians. Now another survey verifies this, and this one shows the demographic composition of those that don't like religion using as a reason to discriminate.
It is the YouGov Poll done between April 4th and 6th of a random national sample of 1,000 adults, with a margin of error of about 4 points.
Note that two-thirds of the general public says religion is not an acceptable excuse to refuse service to members of the LGBT community, and every single demographic group has at least a 60% majority agreeing with that -- except for Republicans, and about half of them (49%) would agree.
And this is not just applicable to serving gays and lesbians. Note in the chart below that the same huge majorities don't want employers to use religion to refuse to hire members of the LGBT community.
These numbers would have been far different just a decade or two ago, but this country is changing -- and it's changing fast. I look forward to the day that religious bigots will make up only a tiny and insignificant portion of our population. Using religion to justify discrimination against those with a different sexual orientation (just like it has been used to justify slavery, racism, and misogyny) is just wrong.