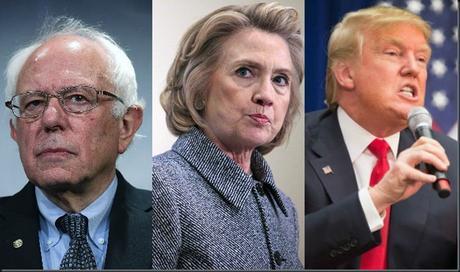 As we start to get into the "nitty gritty" as us Brits say of the US election campaign, I'm gonna start to focus now and then on the charts of the main protagonists of which there are just three, Donald, Hillary and Bernie and update you as to how they are doing. With Bernie, there is a problem as no-one seems to have an accurate or confirmed birth time, so much harder to see what's going on in his world.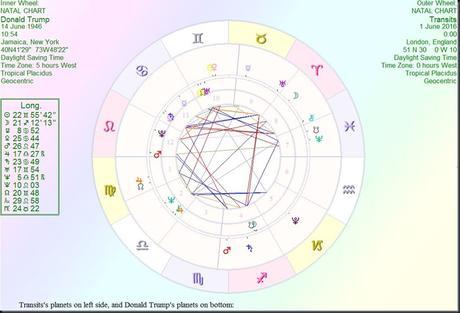 Ok with Donald right now his transiting Mars is square to his Ascendant and natal mars, so the Don is in an angry and uncompromising mood. Mars is travelling retro in his 4th house of patriotism and his country and his natal Mars sits in the 12th house of hidden stuff and confusion, so there will be doubt over his past (4th house) actions that call him into question. Mercury is currently inconjunct to his natal Chiron sitting in his 2nd house of money, so there is hurt and pain being felt currently over his financial dealings. Transiting Uranus is still square to his natal 11th house Saturn Venus conjunction, so he is in a mood to shake up the establishment party (11th). The New Moon on 5th lands in his 10th house so expect some new initiatives from him by the end of the week.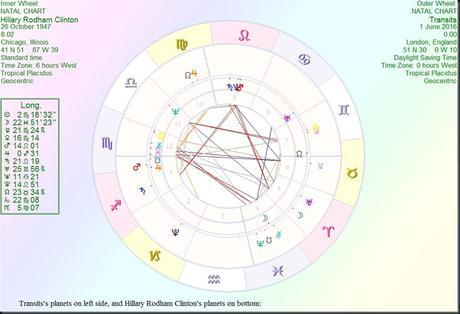 Hillary is going through a bit of a rough spell but that's because she has both Saturn and Mars retrograding in her first house, so she is low on energy and motivation right now. Expect that to change at the end of this month as Mars turns direct close to her Ascendant. At that point she will start to stride forward with more purpose and conviction again. She is also picking up an inconjunct from transiting Neptune to her natal one. Neptune is in her 4th house of her nation ruling this house and her natal Neptune sits in her 11th house of parties and associations and so her standing and authority in the Democratic party is being eroded for now, possibly through the socialist challenge from Bernie (Neptune rules the collective and Socialism in general). Now Neptune is slowing this month and turns retrograde on 13th June, therefore this influence will be around and effective still for a couple of months before fading as we close in to the General election date. Transiting Chiron in her 4th house of domestic affairs is currently square her 8th house Uranus (think pain over electronic secrets - her home email server). Chiron also turns tail at the end of this month and that aspect will be pretty much out of range by the time we get to Election day. Transiting Mercury opposes her Venus, Mercury and Ascendant this week, so she will be getting some unfavourable press at the moment but next week it moves into her 7th house for a month or so, indicating she will turn her focus onto relationships, her enemies and how to relate to people better. The New Moon on the 5th June lands in this house starting the process off. This is a house of litigation and law suits, so one cannot rule out one being served while Mercury is in the 7th.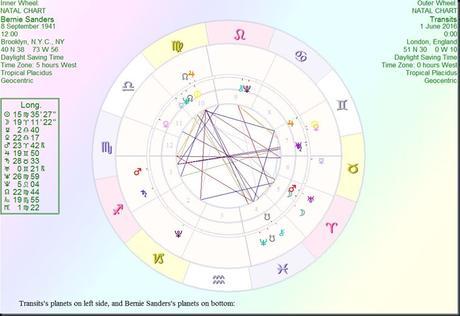 Bernie has all guns blazing right at this minute and he has a lot of confidence and bravado about him. Transiting Jupiter is passing over his natal Sun in the next couple of weeks, so this is about as good as it will get for him. Transiting Mars opposes his Saturn/Uranus conjunction so again we have someone rocking the foundation of the Establishment. Transiting Uranus is currently conjunct to his natal Mars, effectively producing the same effect in acting as an agitator in not doing what others want him to do. This influence will go on until Mars passes direct opposing these two planets at the end of July from which time the effect will fade and his job will be done. Interestingly too, Bernie has his natal Sun at 15 Virgo and that will be subject to a Neptune opposition next year, a time when he may either suffer health problems or a complete lack of focus. I suspect that a long campaign for a 74 year old takes a lot out of you, and he will feel it acutely in 2017. Neptune degrades, brings confusion and drift into one's life.