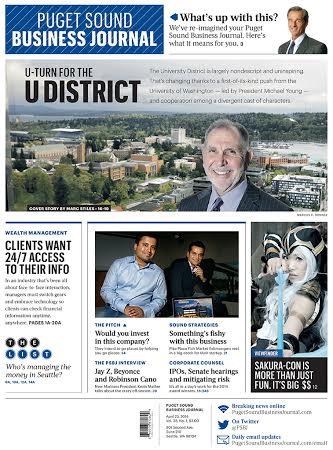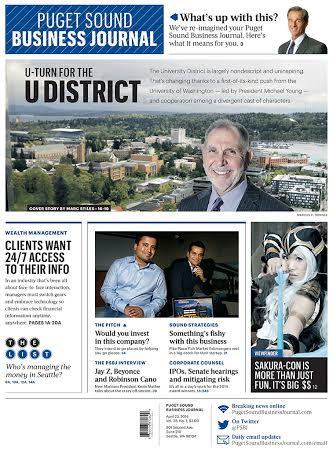 Puget Sound Business Journal: front page of launch edition as the 40th of 40 ACBJ business journals introduces Project Pinstripe


Front pages of the American City Business Journal weeklies on display at the office of the Tampa Bay Business Journal (Photo by Alexis Muellner, Editor-in-chief )
Readers of TheMarioBlog have become familiarized with several of the American City Business Journals as they launched a new look and a rethink for the digital age, part of the Project Pinstripe.
This past week Puget Sound Business Journal became the last of the 40 weeklies to introduce that new look and the logo with the pinstripes.
It has been an exhilarating time for everyone at the American City Business Journal family.  For us at Garcia Media, an incredible journey that began two years ago when Emory Thomas, chief content officer, invited us to meet with him and his team at the ACBJ headquarters in Charlotte, to take a look at the 40 titles under his watch, and to seek ways to unify them visually, while creating a philosophy for presenting information across platforms.
It was at that first meeting that I took a look at copies of the 40 business weeklies resting on a table, each sporting a different logo, typographic palette, color palette and way of doing things. While I almost reached for the door, something told me that I should stay and face the challenge.
A challenge it has been, but with positive results, and well learned lessons along the way:
1. It is possible--and necessary--- to bring together various titles and unify them with one corporate identity and one editorial vision, while allowing each to preserve elements of its DNA and localness.
2. It is important to develop the map to the journey: what is the editorial/content philosophy that will prevail? What role will each platform play? What will be the distinct, and important, role of print?
3. It is necessary to look not at the 40 titles, but to concentrate on one to create a prototype that encompasses the qualities and traits we wish to bring to all the others.  Then, it is key to create a timeline describing when and how each title will go through the process.
4. As the different titles introduce the new look and philosophy, it is important to learn from the experience, to benefit those titles introducing the concept later.
5. It is possible to develop a digital first strategy and do print happily---and successfully, as these 40 titles of American City Business Journal have shown us.
Emory Thomas, chief content officer, reminisces about the 40 launches:
This Pinstripe conversion has been a massive, sprawling effort made possible and real by hundreds of ACBJ employees — employees who have embraced totally rewritten job descriptions, who have learned entirely new storytelling methods, who have driven a much more collaborative company culture, and who have accepted the challenge to aim ever higher with the quality of their work. Drivers of ACBJ's reinvention have come from every level of our company, and from every department — and to a person, they'd tell you they've never been more optimistic about the future of ACBJ.
For Jon Wile, ACBJ creative director, this is not an end but a beginning. Jon has overseen the launch of each of the titles, providing guidance, visual continuity and support to the individual editors and art directors.  In many instances, he has been involved in the hiring of visual thinkers to make the Pinstripe Project possible. Here is what Jon told me:
"While it appears we are finished, I believe we are just beginning our journey. All our papers and sites are finally speaking the same language so now we can really focus on higher levels of story-telling across both print and digital platforms. As exciting and transformative as the last 12 months have been, I predict the next 12 will be even more so."
What next for the Project Pinstripe?
Simply because all 40 of the titles have introduced the new concept does not mean that the work stop here.
Now we will continue to work together to explore better and more efficient ways of delivering information to the ACBJ readers who, as business types, represent the most informed and savvy of readers.
Read more blog posts about Project Pinstripe
http://www.garciamedia.com/projects/american_city_business_journals
TheMarioBlog post #1476
Please enable JavaScript to view the
comments powered by Disqus.
comments powered by

Disqus