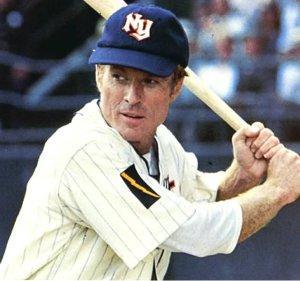 Robert Redford as Roy Hobbs in 'The Natural'
As fall turns toward winter I always start watching more movies, both at theaters and at home. At the same time, I'm in withdrawal since there's no baseball to watch and the Giants' off-season looks to be pretty quiet, so I started recalling my favorite baseball movies…especially since I'll probably be watching many of these yet again in the coming weeks as I await the start of spring training.
I've seen dozens of lists of top 10 baseball movies and top 10 sports movies over the years, and usually have disagreed with them (as you no doubt will with mine – and you can vote on your favorite below)…but I don't think I've ever actually done one. My list stretches to 15, but who's counting?
(I should note, these are simply my 'favorites.' I'm not one to say what's 'best.')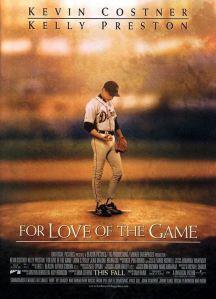 'For Love of the Game': Kevin Costner as an aging star at the crossroads, professionally and personally.
1. For Love of the Game – Most lists I see place one of Kevin Costner's other two baseball films, 'Bull Durham' or 'Field of Dreams,' right at the top. I love both those movies, especially 'Bull Durham,' but this one…a great bookend to 'Bull Durham' in many ways…is my favorite. Costner captures the essence of baseball, of the lone wolf male, of the challenges of overcoming that mindset. The broadcast by Vin Scully woven throughout the movie is pure poetry and adds so much to the film, and I love Kelly Preston in this movie as well. And like in so many baseball movies, the manager is a hoot. I thought J.K. Simmons was perfect in this one…just a touch of comic relief blends into the drama and romance when Costner's veteran pitcher interacts with Simmons' crusty, beleaguered manager. Similarly, John C. Reilly, though perhaps a bit of a stretch as a ballplayer (watching him run the bases was comical), was perfect as the devoted veteran catcher. This movie is really a love letter from Costner about the game of baseball as much as it's a compelling story about a man realizing he's aging, and all alone.
2. The Natural – Until 'For Love of the Game' came along, this was by far my favorite baseball movie ever…and now it's really either 1A or 1B depending on the day. It's still a visual masterpiece, and it's chock full of compelling characters and great storylines. Robert Redford is stellar, as usual, and supporting performances by Robert Duvall, Wilford Brimley, Richard Farnsworth, and Darren McGavin are masterful. I remember reading Bernard Malamud's book and noting the many differences between that and the film, but also how well the book did translate to the screen. This is the ultimate fairy tale baseball film, and I still get goosebumps watching that final game.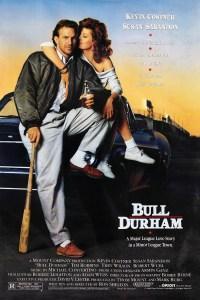 'Bull Durham': Part I of Kevin Costner's baseball trilogy came out in 1988, followed by 'Field of Dreams' in 1989 and 'For Love of the Game' in 1999.
3. Bull Durham – The classic minor league story…I love Costner's weary career minor-league catcher character, and appearances by Max Patkin, the Durham Bull, and other slices of real life in the film just lend to the authentic feel of the bus leagues. This is a clever movie that goes beyond the comic parts, full of memorable quotes and scenes on and off the diamond.
These top three all have one theme in common – the aging, solitary ballplayer who discovers what he's lacking in his life might be someone with whom to share that life.  To me the list could easily end here and be complete. These three films rank head and shoulders above all the rest in my book…but maybe that's just because that common theme resonates so well with me.
4. Field of Dreams – I just watched this again this week. It's actually held up better than I thought, though the special effects (Ray Kinsella's vision of the field early in the movie, the Fenway scoreboard message, etc.) are clearly dated. However, my biggest criticism of the movie has also held up: Amy Madigan's character (Ray Kinsella's wife) is just obnoxious. It's more than made up for by the great Burt Lancaster and James Earl Jones, and by the father-son storyline, but she just distracts from what is otherwise really a fine fairy tale of a film.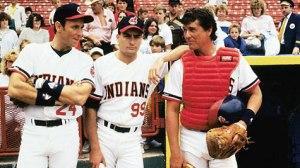 Corbin Bernsen, Charlie Sheen, and Tom Berenger in 'Major League'
5. Major League – The sequels got progressively worse, as sequels often do, but the original was a lot of fun, and just kind of a classic 1980s comedy. The memorable lines from Bob Uecker alone were worthwhile, and '80s actors like Corbin Bernsen ('L.A. Law') mixed with stars Tom Berenger and Rene Russo, up-and-comers like Charlie Sheen, Dennis Haysbert, and Wesley Snipes, and some talented career character actors to create a film that's still fun to watch today. And the similarities between this fictional Cleveland Indians story and the 2012 Oakland A's was uncanny, right down to zany characters, the imposing Cuban slugger, and the owner who doesn't spend money on the club or the stadium while hoping for relocation to a new ballpark elsewhere, only to see the team unexpectedly reach the playoffs.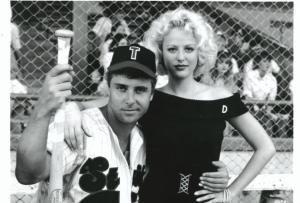 William Petersen and Virginia Madsen in 'Long Gone'
6. Long Gone – A lot of people don't remember or never saw this made-for-HBO movie from the late 1980s, featuring William Petersen (post-'Manhunter,' way before 'CSI'), a young and gorgeous Virginia Madsen, an even younger Dermot Mulroney, and the late Larry Riley, who had starred on TV's 'Knots Landing.' This is a fun movie about a 1950s minor league club in the Deep South dealing with racism, scheming owners (a la 'Major League' and 'The Natural'), and of course a romance between Madsen and Petersen. Very much worth watching if you haven't seen it, IF you can find it. The Bleacher Report blog featured a story on 'Long Gone' last year.
7. The Rookie – This to me was one of the better Disney sports films (along with 'Remember The Titans') that seemed to be a response to the success of 'Rudy.' I was unimpressed with 'Miracle,' which should have been much more memorable than it was, and the same was true of 'Glory Road.' But 'The Rookie,' featuring a very engaging Dennis Quaid in a role he nailed, was really entertaining. It helped that the baseball scenes, from the practice fields to the big leagues, seemed authentic, and Quaid easily so moves between coach, teacher, father, and ballplayer roles. A great story and a nice adaptation into a mass-market movie. My daughter and I both enjoy this one to this day.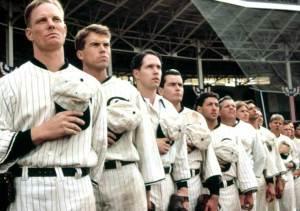 'Eight Men Out' tells the story of the Chicago 'Black Sox' scandal of 1919
8. Eight Men Out – In some ways this is required viewing for fans of 'Field of Dreams' – it's a great companion piece giving the history behind a key plot point in that movie. It's also a fantastic film in its own right, with a standout cast (including John Cusack and Charlie Sheen in a dramatic, very un-'Major League' role), fine period costumes and scenery, and a powerful script that also centers in part on the plight of the great Shoeless Joe Jackson. There haven't been many true baseball stories that became good to great baseball films, but this is one.
9. 61*, Billy Crystal's terrific recounting of the Mantle-Maris magic of 1961, is one of the better HBO movies period. This reaches my personal Top Ten not only because it's really, really well done, but also because it captures an era so well, like The Natural and Eight Men Out do. I love movies that truly make you feel like you're watching that time and place, and Crystal nailed that with 61*.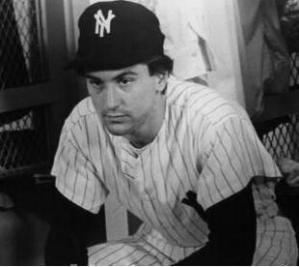 A young Robert DeNiro as a slow-minded, terminally ill Yankees catcher in 'Bang the Drum Slowly'
10. Bang the Drum Slowly – A tearjerker along the lines of Brian's Song, borrowing heavily from Lou Gehrig's real-life story to depict a young, slow-witted Yankees catcher (played by a very young Robert DeNiro) afflicted with a terminal disease, and the relationship he has with the team's star pitcher (played by Michael Moriarty, a fine actor who later starred in the original 'Law & Order' and has been in dozens of movies and TV shows).
11. The Sandlot is perhaps the only movie I can recall that really depicts what baseball means to kids who just love to play the game.  This movie is about summertime pickup games on "the sandlot" with the neighborhood kids (a bunch of unknown child actors who are perfect in this movie), and the adventures that inevitably happen when a bunch of kids hang out together. Brings back some of my fondest memories of childhood every time I see it. And there's the bonus of James Earl Jones …he usually makes any movie that much better.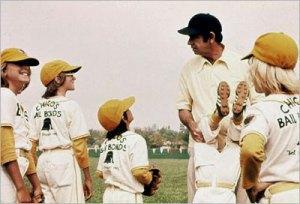 'The Bad News Bears' debuted in 1976
12. The Bad News Bears (the original, not the remake) – I was a kid playing Little League ball when this movie came out, and it was the first baseball movie I remember seeing. It was fun, funny, and inspirational, with memorable characters and of course the classic underdog storyline that serves sports movies so well. I read the Scholastic book versions of the movies, saw the sequels, and fondly remember it all as a chapter from the 1970s. I didn't bother with the remake starring Billy Bob Thornton that came out a few years ago. Some things just shouldn't be messed with, and Walter Matthau's original performance as Morris Buttermaker is one of them.
13. Moneyball – I wrote about this film last year. I enjoyed it when I saw it, but I have too many problems with what was at least supposed to be somewhat a true story. The story is compelling, and Brad Pitt is simply terrific as Billy Beane, but there are too many historical inconsistencies for this to rank higher for me.
14. A League of Their Own – Terrific movie…some very entertaining characters, and again the history feels real. And of course the Tom Hanks line, "There's no crying in baseball!" is a classic that entered the American lexicon. But it comes off a bit campy to me after a couple of viewings. The novelty of Madonna and Rosie O'Donnell just wears off after a while…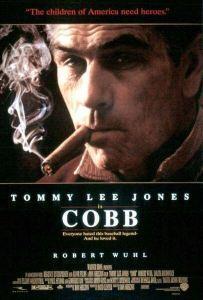 'Cobb': I can't think of anyone better than Tommy Lee Jones to portray Ty Cobb
15. Cobb, starring Tommy Lee Jones, was a fantastic character portrait of a great player and flawed person. I thought Jones was remarkable in the movie, as he has been in many other films (including 'Lincoln' currently). But this one just misses my Top Ten.
There have been plenty of others…they just don't make my list of favorites…
'The Babe,' starring John Goodman as Babe Ruth, was a throwaway to me…too bad because, like 'Cobb,' this could have been a compelling study of an icon, instead of essentially a live-action comic book of a movie.
'Fear Strikes Out' (1957), the true story of Jimmy Piersall as played by 'Psycho' star Anthony Perkins, was a study in mental illness and overcoming the odds. I'm not sure how well i stands up today against more recent movies…I'd need to see it again, as it's been many years since I saw it.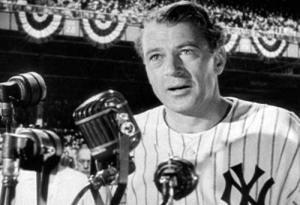 Gary Cooper couldn't save 'Pride of the Yankees'
'Pride of the Yankees' is even older, made in 1942 not long after Lou Gehrig's passing. Despite a cast headed by the great Gary Cooper, it's a schmaltzy, vapid 'tribute' to Gehrig without any real character development. Like this reviewer, I hope one day Gehrig's story can be re-told on film in way that does him justice.
'Mr. Baseball' was a lightweight movie about an aging American slugger who heads to Japan to extend his career, but I like Tom Selleck and if you can ignore the silliness of parts of the film (like the all too predictable romance with the daughter of his Japanese manager), it wasn't bad overall…in part because Selleck at least looked the part of an aging slugger.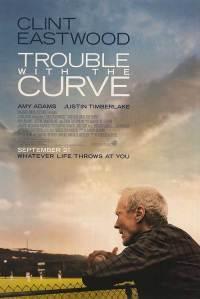 'Trouble with the Curve': I had trouble with the script
Speaking of lightweight, there are plenty of silly comedies and breezy romances centering around baseball, like 'Angels in the Outfield' (from that awful era of Disney linking its movies, theme parks, and sports franchises in a mass marketing machine that eventually was scrapped, thankfully), 'Stealing Home,' 'Fever Pitch,' 'Mr. 3000′ (Bernie Mac as a future Hall of Famer? Puh-leeze…), and 'Summer Catch,' but I wouldn't call any of these works of art.
The recent Clint Eastwood/Amy Adams/Justin Timberlake concoction, 'Trouble with the Curve,' comes nowhere near my top 10. It had potential, but it sure didn't live up to it. Predictable story, with too many characters that are black and white with no shades of gray, like the contemptible high school slugger, the devious assistant GM, etc. And the movie tries too hard to thumb its nose at 'Moneyball' by stressing how important scouts are and how ridiculous computers are, when the truth is both matter…something 'Moneyball' also got wrong…but at least 'Moneyball' had some excellent acting and clever scripting.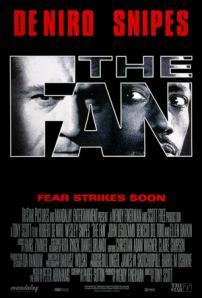 Movie poster for 'The Fan' – a thriller about a crazed stalker baseball fan that was truly abysmal.
However, it was just mediocre, not truly BAD…which leads us to my least favorite baseball movie ever.  And it's not even close. My least favorite baseball-themed movie EVER was 'The Fan'…a lurid, sensationalized, sad attempt to capitalize on the Barry Bonds era by casting Wesley Snipes in a Bonds-like role as a San Francisco Giants slugger stalked by a crazed fan, none other than Robert DeNiro. As much as I've always liked Snipes and DeNiro (and their previous roles in baseball movies 'Major League' and 'Bang the Drum Slowly,' respectively), I hated this film. Maybe it's because I'm a Giants fan, and that made it all the worse, but I thought it was pretty pathetic all the way around.
A couple of new baseball-themed movies are in development. Billy Crystal, a devoted baseball fan and the man behind '61*', is doing 'Us & Them,' playing a minor league baseball broadcaster. And previews for the new Jackie Robinson biopic '42′ have been running in theaters lately in advance of its 2013 release. Hopefully both these films will wind up as memorable additions to any baseball movies list alongside classics like 'The Natural' and 'Bull Durham.'
Vote for your favorite baseball film below, and let me know what I missed. What haven't I seen that should be added to this list?
<a href="http://polldaddy.com/poll/6720072">Take Our Poll</a>