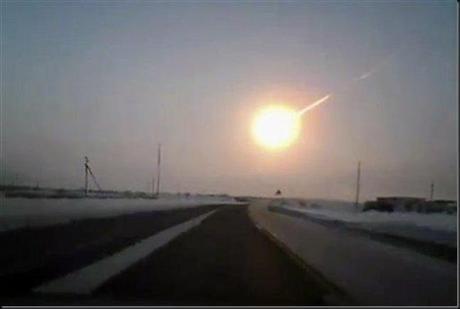 This is a sight you don't see very often. A meteor this morning broke up over the Ural mountains region of Russia and near to the city of Yekaterinburg crashing into the ground, causing a shockwave that damaged buildings and injured many people. Luckily it hasn't reportedly killed anyone and it was captured on film so we have the privilege of seeing a rare space event.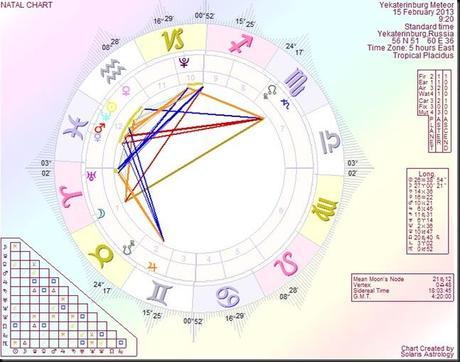 The meteor fell at 09.20 hrs local time around the city of Yekaterinburg so this is where I am basing this chart. We find Uranus close to the ascendant indicating an unusual and unexpected event happening and Pluto the planet of secrets and the unknown conjunct to the Midheaven.
Pluto is the key to this event, as it was almost exactly conjunct to the Saturn Mars midpoint at the time that it fell to earth, just 0:07 degrees to be exact. This was a relatively small meteor that caused widespread damage, just as Pluto is apt to do. Pluto is the smallest of the major bodies that us astrologers follow, but it packs the biggest punch. The trine from Saturn and Mars focusing in on Pluto shows hardship and damage (Saturn) caused by the hit, and Mars obviously shows the fire in the sky as it sped through the earth's atmosphere.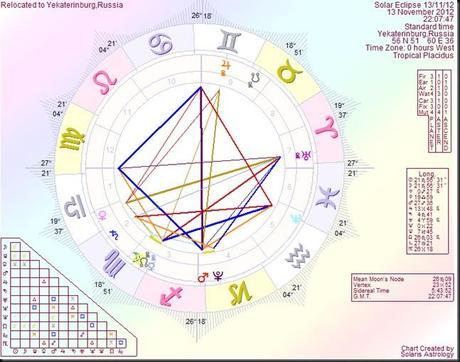 Was this event predictable? Well looking back to the last solar eclipse in November and relocating it to  Yekaterinburg, then we find Mars the planet of fire and energy almost exactly on the descendant just into the 4th house, conjunct to Pluto and both these planets square to Uranus. Is this the unexpected fiery and destructive event in the 4th house of one's home and environment that this relocated chart could have predicted? It is also interesting that the transiting Nodal axis at that eclipse in now within one degree of being conjunct to the eclipse degree of 21:56 Scorpio. 
I am not in the group of Astrologers that say that this is a "sign of doom" from the heavens, but it is interesting that this event in my view is shown through the astrology of the moment. If anyone has any comments and can enlighten me further on this one, I would be delighted to read them…
---------------------------------------------------------------------------------------------------------------------------------------------------
I am available for consultations – please go to the link to book them…