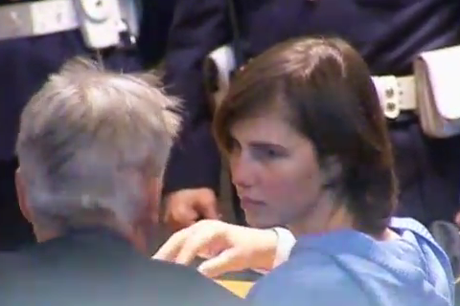 Amanda Knox at her appeal trial, November 24 2010
Amanda Knox has won her appeal against her conviction for the murder of 21-year-old Meredith Kercher. The case has been subject to intense scrutiny and lurid speculation since Kercher's body was discovered in 2007 in Perugia, Italy; it seems highly unlikely that this will cease now Knox has been acquitted.
The background. Meredith Kercher was found dead in her bedroom on 2 November 2007 in Perugia. Her throat had been cut, and her partially clothed body was covered by a duvet. The British student, described by her family as a "lovely, kind" person, had been studying in Perugia and was sharing a house with three other women, including American Amanda Knox, then 20. Knox and her Italian boyfriend, Raffaele Sollecito, were arrested and jailed for Kercher's murder in 2007. The case came to court in 2009: Knox and Sollecito were found guilty and sentenced to 26 and 25 years respectively. A third man, Rudy Hermann Guede, was also convicted of the murder after a fast-track trial in 2008.
The acquittal. Knox and Sollecito were acquitted after serving four years in prison. The judges upheld a slander charge against the American student: after being questioned by police, Knox signed a statement that she had been at the house and had seen her former employer, Patrick Lumumba, enter Kercher's bedroom. Lumumba was subsequently arrested but later released without charge. Knox insisted she had signed the statement under duress, and that she had in fact spent the night at Sollecito's home. According to Barbie Latza Nadeau at The Daily Beast, Italian prosecutors intend to appeal the decision to free Knox and Sollecito.
Foxy Knoxy. Gordon Raynor reported in The Telegraph that Knox has become "the most infamous woman on the continent" due to the prosecution painting her during the trial as "a siren who could apparently entice a virtual stranger to commit murder with her hypnotic sexual charms." According to Raynor, this sort of rhetoric obscured the fact that police simply had no "credible" evidence. Writing for The Los Angeles Times, Nina Burleigh agreed, arguing that Knox had been subject to "all manner of outlandish, misogynistic behavior" by the Italian authorities and the media, and that her gender and looks were what drove the case, rather than evidence. Meanwhile, over at The Times (£), David Canter suggested that the reason the trial provoked so much interest was because women killers are extremely rare – and that this was also why he was convinced of Knox's innocence from the start.
Enigmatic. Writing in The Guardian, John Hooper cautioned against presenting Knox as a straightforward woman demonised by the press: "Though she and her lawyers have vehemently denied she has the split personality attributed to her by a lawyer in the appeal, she has nevertheless shown a remarkable capacity for presenting contrasting images of herself", he wrote. Hooper also reported that there are rumours Knox will give television interviews and write a book when she returns to the US.
Italian resentment. According to Stephan Faris in Time, many Italians are resentful over apparent implications by US media that the justice system in Italy is flawed. In addition, Faris reported that recent polls show the majority of Italians believe Knox is guilty. However, a Seattle Times editorial praised the Italian justice system for allowing automatic appeals, while admittedly calling the prosecutor "overzealous."
Kercher family respond. Meredith Kercher's brother told a press conference after the appeal verdict that they are "back at square one", according to Sky News. Meanwhile, Kercher's father told The Daily Mirror that the acquittal was "ludicrous" and that it made "a mockery of the original trial." Meanwhile, Tom Geoghegan reported for the BBC that Knox's family has carried out an "arduous" campaign "at crippling cost" to prove her innocence, hiring a PR company to counter negative press speculation.
Background

Foxy Knoxy back in the spotlight
Knox found guilty
Jury deliberation begins in Knox trial
Amanda Knox: Not guilty