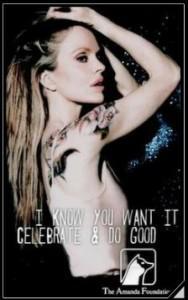 Kristin Bauer, the lovely and talented "Pam" on True Blood, has found a most meaningful way to celebrate her birthday on November 26th: a charity project!
Kristin has generously donated several incredible pieces of True Blood memorabilia, including autographed artwork by the amazing Joe Corroney, and a one-of-a-kind, special edition Playstation, signed by Kristin.
Every penny spent on the items in this online auction, will aid in the care and placement of Amanda's dogs and cats. These much-needed funds will assist the Amanda Foundation in providing FREE veterinary services through its Spaymobile, to the poorest areas of LA County.
The auction began Monday, Nov. 21, and ends Sunday, Nov. 27.
They are auctioning off the following items:
True Blood Comic Book Art Signed by Alexander Skarsgard and Artist Joe Corroney!
True Blood The Entire First Season Autographed DVD Box Set
True Blood Comic Book Art Signed by Anna Paquin and Artist Joe Corroney!
True Blood Comic Book Art Signed by Cast Members from the hit TV Series!
True Blood Comic Book Art Signed by Many Cast Members of the Hit TV Series
You can view all of the items together by going to wix.com and the auctions are all listed together here: ebay.com