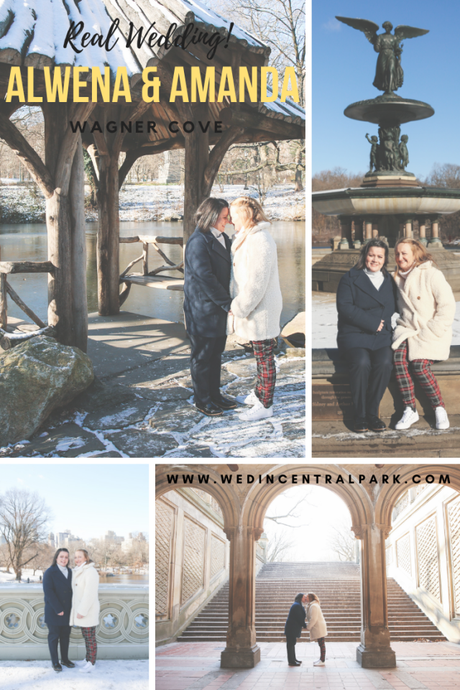 Alwena and Amanda came over to New York from their home in England with their close friend Keith to get married in Central Park in December. Alwena first contacted me on the 10th December and they got married on the 19th December, so I think this might be the shortest planning period of any wedding I've been involved with! Luckily, they had a clear idea of what they wanted from their elopement and we kept things quite simple.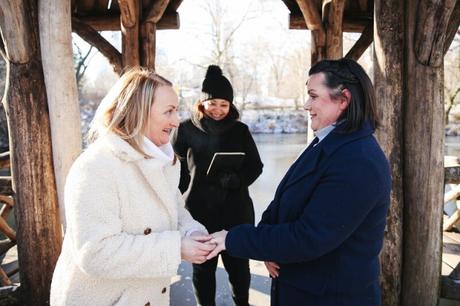 The couple got engaged at their home in Manchester on Christmas Day. Getting married was the next step for them. They are ready to start a family and they wanted to be married first. Before contacting me they considered a wedding at City Hall but they decided that it wasn't for them. They wanted a no-nonsense ceremony but Alwena said that she thought a City Hall wedding "looked very cheap and impersonal," and that is what couples who have married there have told me. It's quick and easy but you may not get to say all the things you want to say to your partner, and the surroundings certainly aren't as beautiful as Central Park!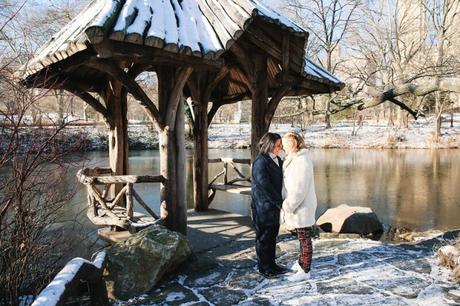 Their only guest at the wedding was their best friend Keith. Alwena said, "Mum was gutted she couldn't see us marry but happy with the party at home we are having," I do find that having a big party on your return allows couple to have the best of both worlds. "The pictures made up for it and we had the most magical day," she added. Since they got married at a very quiet time of year we were able to get the photos edited the following day, which Alwena had requested because she felt that loved ones at home would want to see them straight away.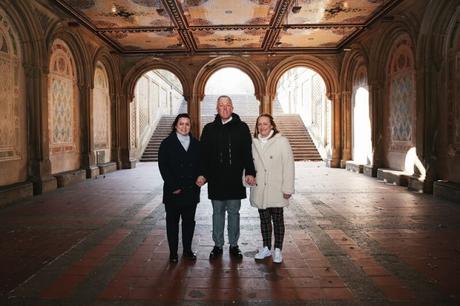 They chose our new Elopement Package, where we offer the ceremony, permit and one hour of photography. They got married at Wagner Cove. "We loved all the places we were lucky enough to have photos taken," said Alwena. "We got married in beautiful surroundings," she said. "How many people can say they got married in the snow in Central Park?" she asked. I must admit, I do love a winter wedding, and many of our couples who do get married in the winter months are hoping for snow. Alwena and Amanda got just enough snow to make things pretty, but not so much that travel was disrupted.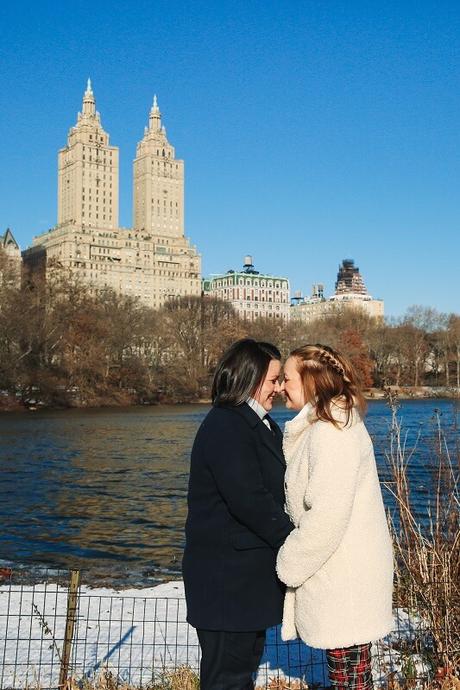 We kept the ceremony short and sweet. "It was good, we are not religious so we didn't want anything along those lines," said Alwena. "Also, we didn't feel the need for a stranger to stand in front of us telling us how much in love we are when they don't know us," she added, "it was quite a straightforward ceremony but still amazing." Many couples, especially the eloping couples, just want to be somewhere beautiful and say "I do".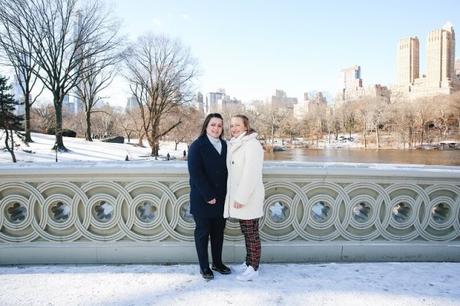 Neither Alwena or Amanda wanted to carry flowers. The temperature was minus 5 so they wore thermal trousers and many layers under their coats! After the ceremony they all went to the Tavern on the Green to warm up and drink champagne. When they left Central Park they took a rickshaw around the city then had a meal at Gallaghers and continued to explore the city. This is the beauty of an elopement, especially when you get married in the morning as Alwena and Amanda did – you get the rest of the day to continue being tourists.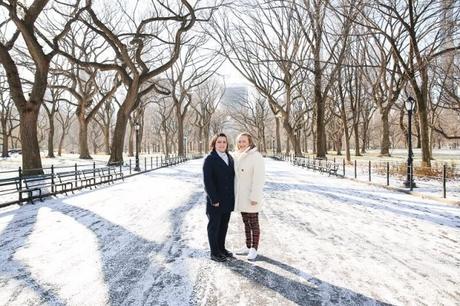 I asked if they had any regrets about not having a big, traditional wedding close to home. They said no. Eloping was right for them. "Get married where you want, live the dream and no hassle of inviting people you don't like!" said Alwena. I can't argue with any of that! I asked Alwena if she had any advice for other couples considering a wedding in Central Park. She said, "do it." That's great advice.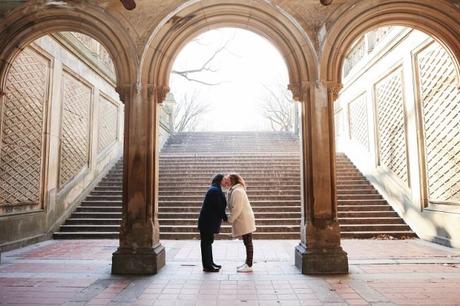 Thanks for sharing your story with us, Alwena and Amanda. If you would like me to help you with planning your own Central Park wedding, whatever the time of year, visit our website, or follow us on Pinterest where we pin all things New York or wedding-related, "like" us on Facebook, and follow us on Instagram for lovely photos of happy couples.