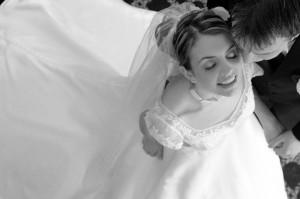 'Traditional' weddings aren't as popular as they used to be, more and more people are heading abroad, getting married in places like the Natural History Museum or power stations instead of going for the usual church weddings. This could be partly due to religion dying out in western culture or because people like to have their own sense of identity in their wedding now rather than just following the usual template. When it comes to the wedding photography then people are also looking for something a little different and contemporary now, they don't just want the usual bride and groom color photo on the steps of the church with confetti in the air. In this article I will outline some of the more popular techniques for taking photos as well as printing and displaying them afterwards.
As silly as it may sound to serious photographers, websites like 'Instagram' actually have a big impact on the style of photos people would like from their wedding. The 'technology generation' who have grown up in the 2000's have not got the age of marriage and are looking for those unusual photos, they take their inspiration from their favorite apps and websites. Instagram saturates colours intensely as well as favouring sepia and black and white pictures. Having looked at hundreds of modern wedding photos I have noticed that on the whole there is a large amount of black and white photos taken from unusual angles such as above the head with the bride and groom looking up or leaning against a wall, sat on a bench etc…
My advice to photographers would be, focus on taking as many different pictures in as many different creative poses as you can, focus on using different levels of exposure and making the sun 'pop' on the pictures. The rest of the editing can be done afterwards with a reasonable level of Photoshopping ability.
Once the photos have been taken and edited the next stage is to offer different display methods. Again, in the same way that photos have changed so have the displays, no longer do people just want a standard photo printed on photo papers with mounting around the outside and in a frame, they are after something a little different. Some of the more modern techniques include canvas, split canvases where you will have the photo split in to 3 smaller canvases and then placed next to each other in the same way a triptych works or use alternative materials. One of the best and most impressive looking materials that businesses who specialise in wedding photography in London use is aluminium; you can print on to a sheet of aluminum and make your room look contemporary and modern. Glass is also an interesting and new surface you can get photo printing done on.
If you are interested in getting your photos blown up to poster size and printed out then pay a visit to one of the numerous websites that offer this service such as 'Photobox', 'Posterxxl' or 'Snapfish'. Alternatively simply Google 'photo printing aluminium' or 'photo printing glass' to see other companies nearer you.