One of the hardest things to get used to when we started eating gluten free food was the lack of variety.  Italy is filled with gluten free pizza options and very good Italian food options, but where do you go when you want CERTIFIED GLUTEN FREE ETHNIC FOOD?
If you plan on visiting Milan and you need certified Gluten Free options, search no more, the BE BOP Restaurant has you covered with excellent gluten free ethnic, seafood, vegan, vegetarian, pizza and pasta dishes.  They offer a HUGE menu with the most variety that I have ever seen in Italy for gluten free dishes.  They are also family friendly and in one of my favorite areas of Milan!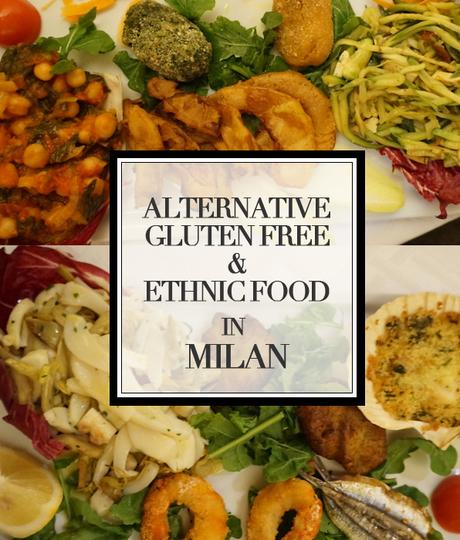 BE BOP RISTORANTE PIZZERIA – GLUTEN FREE IN MILAN !
One of the most famous gluten free options in Milan, there is way more to this restaurant than pasta and pizza.  The Be Bop Restaurant takes gluten free eating very seriously and even offer books for sale at the entrance about gluten free eating in Italy!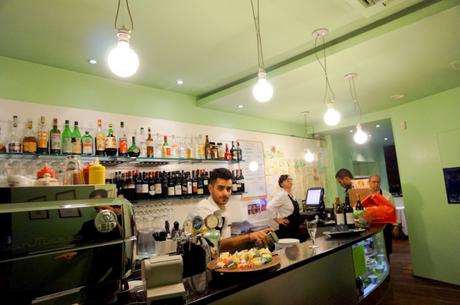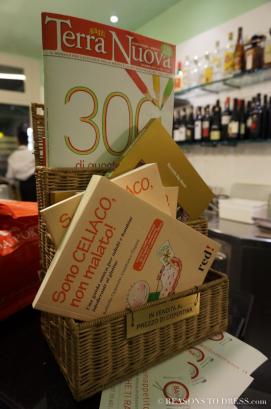 In the heart of the "Zona Navigli" !
I've written before here of Milan's unknown port area the "Zona Navigli", filled with aperitvo spots and a young urban nightlife vibe.  The Be Bop Ristorante and Pizzeria is locate in the heart of the Navigli, so after dinner you can take a two minute stroll right to the canals and enjoy a walk and drink!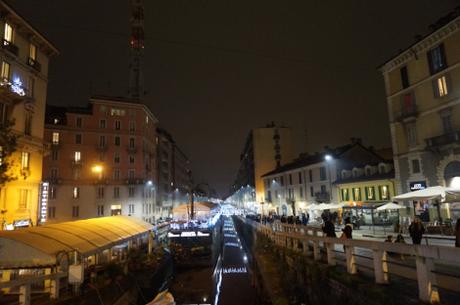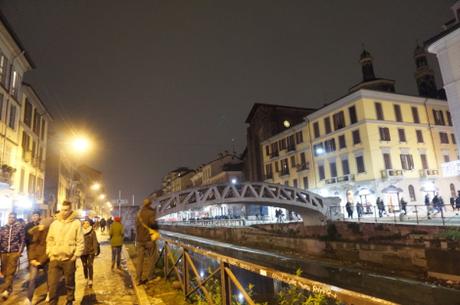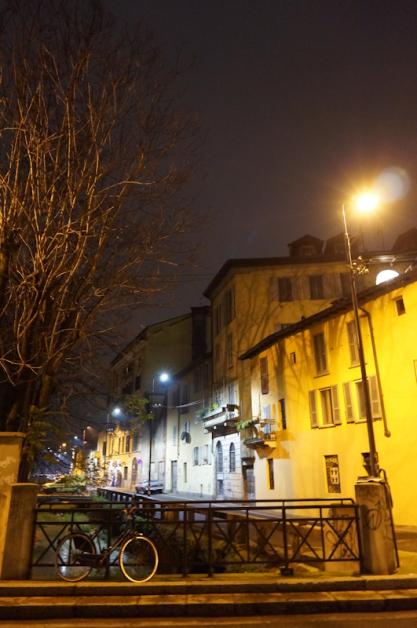 Ambiance and Atmosphere
The Be Bop Restaurant is very modern and offer three distinct seating areas including a beautiful outdoor patio that is open in the summer time.  I would recommend booking in advance, and if you'd like to sit on the patio I would specify that.  We went with our young son, so at the time of booking I specified that I would need a high chair, and wait staff were ready with a booster seat!
Our son was greeted with excellent service and his order was taken right away (before ours) so that the kitchen could begin preparations for him and he wouldn't have to wait as long.  We always have (low volume) cartoons on hand for him to watch when we dine out.  Although restaurants, in general, in Italy are family friendly, you'll want to make sure that kids are not running around as they are usually quite narrow and wait staff are often running back and forth serving.   There is no room to let kids roam or wander, so to be courteous to the other diners I would stress that kids should remain seated during dinner!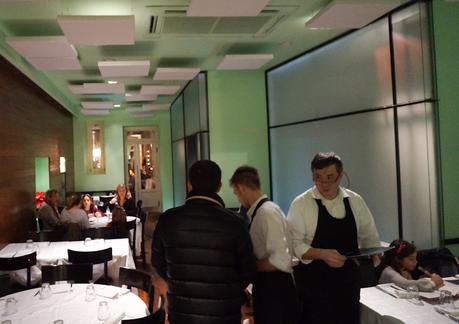 Be Bop is a great spot for a date, especially (as I mentioned above) if you want to head out for a drink in the Navigli area afterwards.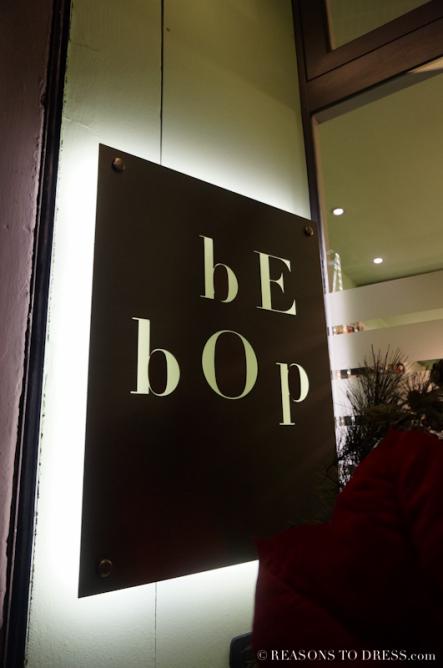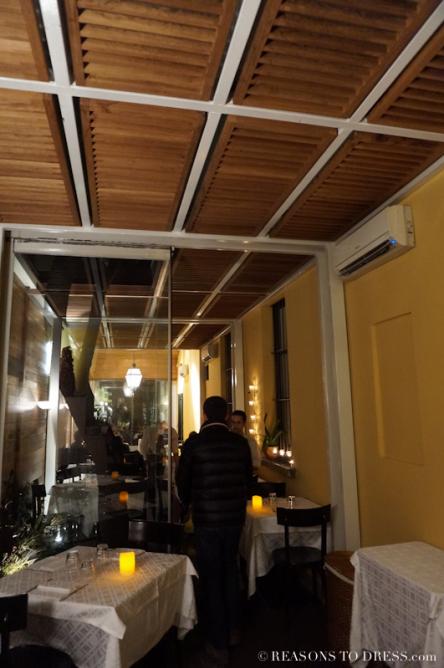 Gluten Free ETHNIC FOOD in Italy …. finally !
We mentioned at the time of booking that we would all be ordering from the Gluten Free menu. They brought us our own bread basket with gluten free breadsticks.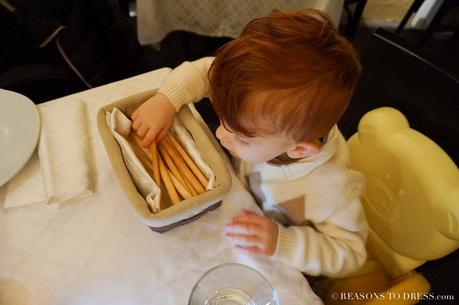 Almost ALL of their menu is available gluten free and they have translated it into ENGLISH!  One of the things that struck me the most about Be Bop was the sheer quantity of entrees available that were distinctly different from any other GF restaurant we've tried in Italy.  They offered all types of gluten free battered fish, including fried shrimps, indian fish pakora and gluten free scallops au gratin!   I ordered the gluten free fish appetizer platter to taste them all and was not disappointed!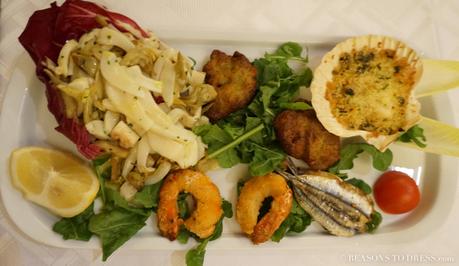 As I've mentioned, it is rare to find gluten free ethnic food in Italy, so imagine my surprise when I finally got to order Indian dishes and ethnic, spiced dishes that were all certified gluten free!  This is a picture of the Mixed Vegetarian Platter that is completely gluten free!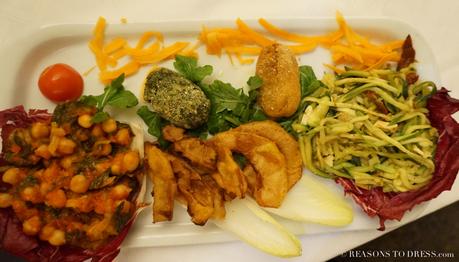 Pasta & Pizza
If spiced, vegetarian or ethnic food isn't your thing you can still find a whole section of the gluten free menu dedicated to traditional pasta dishes (we ordered gluten free spaghetti with clams) and pizzas!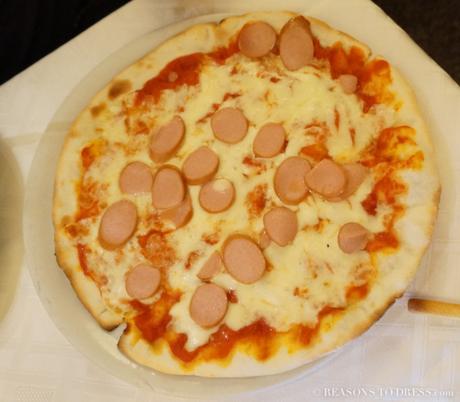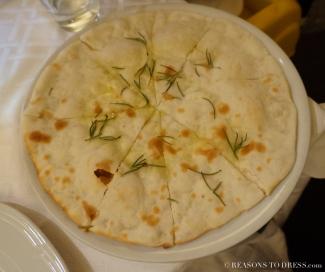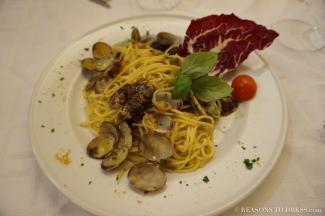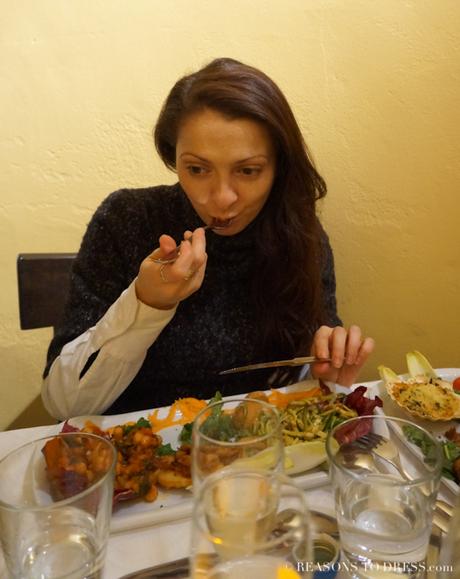 The Menu
I wanted to go ahead and include some photographs I took of the menu, just to help anyone who is trying to plan a gluten free meal in Milan!  You can see that they offer SO MANY DIFFERENT OPTIONS and the whole menu is translated in English!  you'll also notice where dishes are VEGAN and DIARY FREE !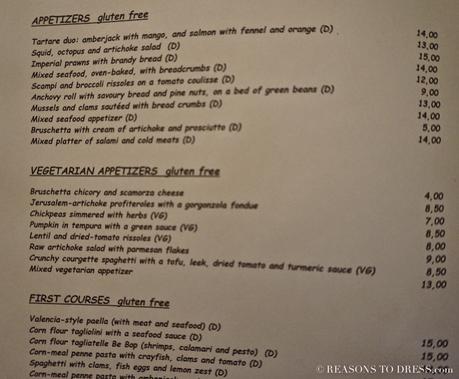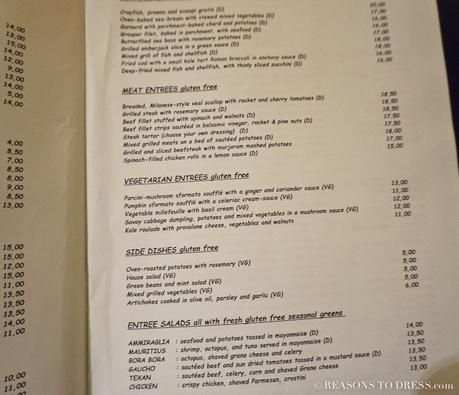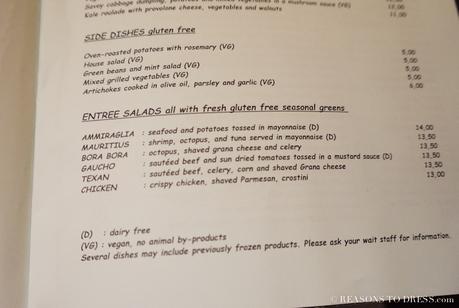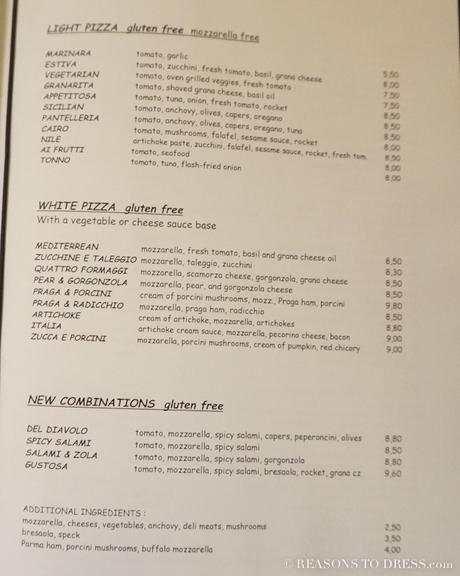 To wash it all down feel free to order a gluten free beer!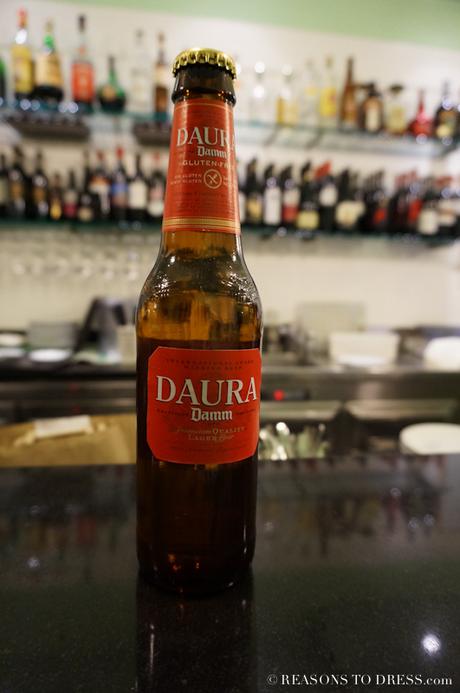 Gluten Free Desserts
The Be Bop Ristorante and Pizzeria offers a wide selection of gluten free cakes, pies and tarts including a delicious pistachio and ricotta cake that was absolutely yummy!  If I had more space I would have tried their gluten free chocolate pear pie, but alas my apetizers did me in!
If you don't feel like having dinner, you could always see if there is some space at 10 pm after the dinner crowd has left and just order a variety of desserts to share!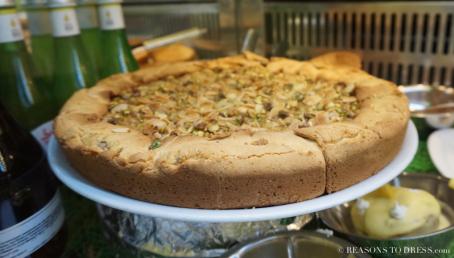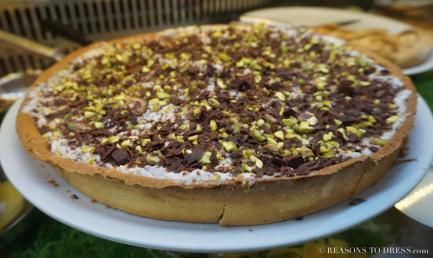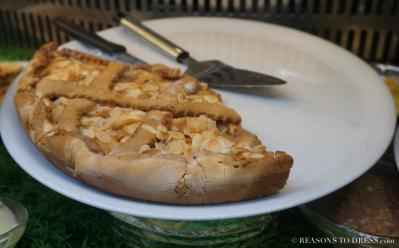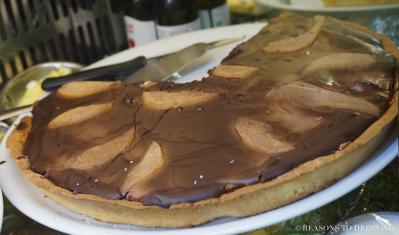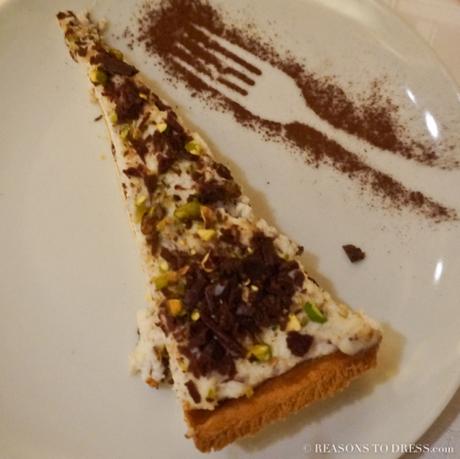 Gluten Free in Italy
I hope you've found this review helpful, a special thanks to the BE BOP Restaurant for reaching out to me to be a part of this series.  If you are attending EXPO2015 in Milan and you are looking for gluten free options please feel free to check out the other posts in this series.  I've reviewed the gluten free breakfast at the Enterprise Hotel,  a yummy, fast and cheap lunch or dinner option at Tigella's, and I've reviewed my favorite Gluten Free option in the centre of Milan 5 minutes away from the Duomo here!
Here you can find all of the posts in the Gluten Free in Italy Series!
Reasons to Dress is a lifestyle blog, and now that I find myself with my son who has a Gluten Sensitivity, finding delicious gluten free options is a part of my life!! Even if you aren't interested in gluten free travel, please feel free to pass this along to someone who might me. And I sincerely hope that this review and series makes someone's vacation much more positive and easy.  Just because you have a gluten intolerance doesn't mean you can't travel and enjoy all that life has to offer.
This Fall I'll be launching a new website dedicated to Gluten Free in Italy, in the meantime you can follow along here for updates.
Instagram – @glutenfreeinitaly
BE BOP RISTORANTE PIZZERIA  – Info & How to Get There!
Find them here on FACEBOOK!
Or visit their website HERE – http://www.ristorantebebop.com/
Viale Col Di Lana 4, Milan
Phone: +39 02837 6972
Feel free to follow Reasons to Dress on Bloglovin' so you never miss a post!
You'll get one email a day with all the new posts from all of the blogs you follow.