On Saturday evening, October 12th, Alpaca Expeditions won the Silver Q'ente Prize for Best Travel Agency in Cusco in the Adventure Tourism Travel Agent category. Alpaca was one of three agencies chosen out of hundreds that entered this year. The Q'ente Prizes are extremely prestigious as they are chosen by the Regional Tourism Board of Cusco.
These awards are given to companies that are dedicated to corporate responsibility. They encourage companies to create amazing vistor experiences while giving back to the local communinity in the Cusco region. Raul Ccolque, the owner of Alpaca, created this company with those exact goals in mind. While Alpaca aims to create treasured memories for all our travellers, we are also focused on making life better for those employed by Alpaca – guides, porters, office staff. We provide our entire team with proper wages, equipment and healthcare. We understand we would not be where we are today if it was not for our amazing "Green Machine" and are committed to them 100%. We also help all the villages that we pass through on our many different treks. We bring an extra porter with us on alternative treks to help clean the path as these trails are not protected by the National Park and are often left in bad condition from other trekkers. We bring food and provide hot drinks to the families that live there.
Alpaca is a young company but we hope with each year we will learn how we can improve conditions for everyone in the Cusco region and are dedicated to making life better for all.
Alpaca Expeditions founder Raul Ccolque and Manager Ronaldo Ccoqlue accepted the award on behalf of the company. It was a great night for us and we hope with hard work we will be celebrating many more.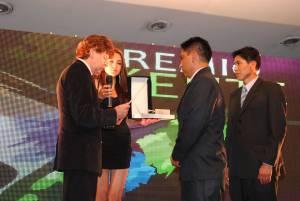 Founder Raul Ccolque and Manager Ronaldo Ccolque accepted the Hummingbird Award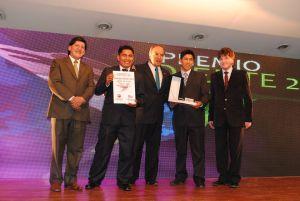 Presented the award by the President of Cusco Region, Jorge Acurio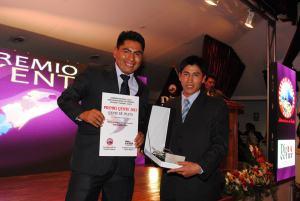 Ccolque Brothers with their awards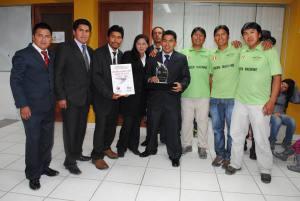 Many of the Green Machine was on hand to celebrate this major achievement.