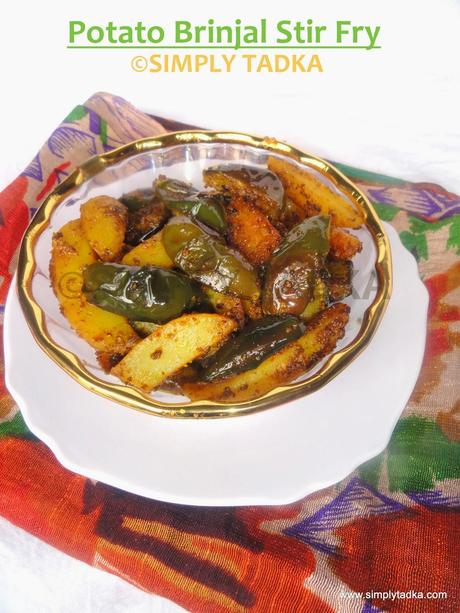 Today I wanna share one of very simple and easy to cook, stir fry recipe. Aloo Baingan or Potato Brinjal stir fry is a simple and spicy vegetarian dish which has been made in my kitchen many times. Both aloo and baingan complement each other very nicely in this recipe. It can be served with curd and chapaati (Indian flatbread).  For this recipe you have to need baby eggplants. You have to cook eggplants and potatoes both in mustard oil and toss with spices and lemon juice. Baingan is Hindi word, brinjal or eggplant both are English term.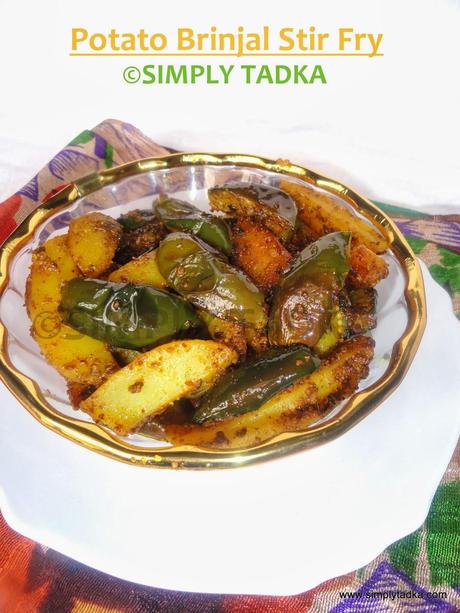 Preparation Time: 10 Minutes
Cooking Time: 15-18 Minutes
Servings: 4
Category: Veg
Ingredients:
3 Medium Potatoes, finger chop
10 Baby Eggplants, quarterly
2 Tbsp. Mustard Oil
1 Tsp. Cumin Seeds
Pinch of Asafoetida
1/2 Tsp. Turmeric powder
1 Tbsp. Coriander Powder
1/2 Tbsp. Raw Mango Powder
1 Tsp. Red Chili Powder
1/2 Tsp. Garam Masala
Salt to taste
1 Tsp. Lemon Juice
Instructions:
Chop the potatoes into finger form and eggplants into one by four.
Heat the oil in pan. When oil's aroma comes, add cumin seeds and asafoetida.
When they starts splutter, add potatoes and eggplants. Add spices and mix well.
Cover and cook for 15 minutes until to soft. 
Garnish with chopped coriander and lemon juice.
Serve the potato eggplant stir fry with curd and chapatti.
Note:
You can add tomatoes and onion too, it's completely optional.
Tag: how to make aloo baingan, how to cook potato brinjal stir fry, aloo baingan ki sabzi, eggplant curry, potato eggplant stir fry, vegetarian recipe, simple veg recipe, stir fry recipes, main course veg curry. 
Enter your email address:
Delivered by
FeedBurner