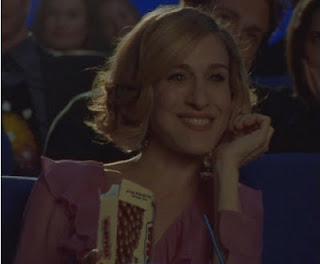 "Lainey, this all we need. A couple of smokes, a cup of coffee and a bit of conversation. You, me and five bucks." – Troy Dyer, to Lelaina Pierce
"Emily, this is all we need. A couple of hours, a cup of coffee and a little bit of self-pride.  You, me and six bucks." – Emily Gagne, to herself 
People seem to think going to the movies alone is for lonely spinsters. I mean, obviously you're completely pathetic and unlovable if you can't get someone to go see a cheap matinee of the latest Almost Apatow (loosely produced by, but not actually directed or written by Judd Apatow) with you, right?
This weekend, I decided to buck the self-damaging trend and go see something by my lonesome. On Saturday morning, I woke up a little bit late (9:45, what, what!), scarfed down some Greek yogurt and berries and headed out to my not-quite-local AMC for a 10:45 a.m. screening of The Five Year Engagement. (Side note: flicks are $6 before noon on weekends at select AMC theatres!) I put on my clunky, "Who you calling a hipster?" glasses, snuck a tall Verona in under my anorak and settled in for two uninterrupted hours of nearly naked (emotionally and physically) Jason Segel romancing Mrs. John Krasinski.  To say it was glorious wouldn't even begin to express the half of it.
I'm not referring to the film specifically – although, I did enjoy it a fair amount. (Segel wears a knitted tuxedo and runs an EMT-themed taco truck with the slogan "9-1-Yum"; Mrs. Krasinksi looks as enviably gorgeous as ever; and my absolute favorite Van Morrison song, "Sweet Thing," plays a starring role.) The truly splendiferous part of it was the fact that I was alone, and that I was able to fully engage myself in the film, and my feelings for it, without anything (or anyone) getting in the way.
In truth, I suppose I wasn't totally solo – there was an old couple in the upper part of the theater. But there wasn't anyone sitting beside me, anyone to worry about. ("What are they thinking? How come they didn't laugh at that part too? Did they see me take a huge gulp of Sprite to try and keep my irrational tears down? Did they just pull out their cell phone to check the time, or what?!") It was like I was in my basement, watching whatever terribly awesome movie I found on Netflix and drinking Pumpkin Chai out of my Jack Skellington mug while rocking some ripped-up pajamas. Only 100 times bigger and better. I mean, I wasn't wearing pants with Chihuahuas on them.  
Leaving the theater just after noon, I felt both elated and sad. Elated because I had just discovered what is sure to my favorite Saturday morning pastime since One Saturday Morning. Sad because it took me so long to get over my hang-ups and discover it.
Don't be afraid to see a movie alone, Cinefilles. It's not pathetic at all. In fact, it's freeing. And, if you go at the right time, it's cheap as fuck.