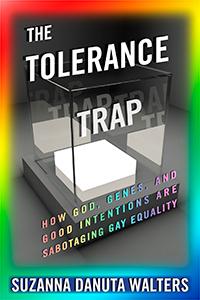 I hate to admit it: I'm sort of a newbie in the LGBT politics/theory section of the second- hand book store. I am always seeking out new works of fiction and poetry from queer authors or with queer themes; as a queer writer myself I see it as my duty. But I'm realizing I've been somewhat of a snob. Why read about queer politics when — hello! — I'm already queer! What more education do I need? I'm as liberal and accepting as they come and ah — there's the rub. Acceptance isn't good enough. In Suzanna Danuta Walters's The Tolerance Trap, I was taken on a journey through the personal, popular, and political. And the first thing I learned? Tolerance is not acceptance is not inclusion is not integration. All right, let me break it down.
In this four part powerhouse of a book, Walters moves us through some pretty deeply- ingrained facets of queer identity and history, including coming out, the "born that way" debate, and same-sex marriage. Sprinkled in between are issues of religion, problematic queer stories in popular culture, and the occasional foray into a personal tale, which — don't take my word for it, I'm new in this arena — strikes me as unique (albeit certainly welcome!) in a work of non-fiction such as this. Reading The Tolerance Trap is like having a conversation with a friend over coffee, except that friend is a professor and there's a laptop next to that coffee upon which you can try to transcribe almost every word that comes out of her mouth. Seriously, I've never annotated so much in my life. Get ready.
With each idea, story, or example, I was invited to delve into my own queer history, my own (surprisingly bland/incorrect) perception of "how far we've come." Who hasn't cheered as another state joins the same-sex marriage roster? Who hasn't watched The Kids Are All Right and appreciated seeing a lesbian married couple on the big screen? Who didn't get a little teary watching gay soldiers openly embrace their partners? Who hasn't indubitably argued for the "born this way" logic, eschewing the idea that gayness can ever be a choice? Who wasn't touched by at least one "It Gets Better" video? Surprise! These are not the victories we are told we must think they are. With erudition, humor, and poignancy, Walters and The Tolerance Trap makes us reconsider our reactions to all of these and more.
Walters argues that we have become complacent. She says we've shifted from "We're here, we're queer, get used to it!" to "We're here, we're not really queer but vaguely gayish, be nice to us." Why is gay marriage our big ticket to a "postgay" society/culture? By trying to prove that we're "just like everyone else," we are only perpetuating heterosexuality as the norm, or what's worse, the gold standard. Walters calls for a radical integration instead, wherein our queerness is not only seen as (different yet) normal, but further challenges the heterosexual, patriarchal narrative: instead of assimilating into the dominant culture we must challenge it to confront its homophobia. She argues that our collective queer identity must remain entangled with feminism. Even as we all march off to the wedding chapel, we must not strive to fit in the mold of Mother, Dad, and 2.5 children. Let us continue fighting for our rights while not letting go of what makes us bold, brave, and unique. We simply must challenge the norm, or we will forever just be "tolerated," like a weird aunt at a dinner party.
Walters constantly reminds us of the underrepresentation/omission of lesbians in gay- related discussions, political debates, and entertainment, which I really appreciated. I do wish more time was spent on queer folks of color and non-American gays. Gladly, Walters does often remind us that many of the images we are blasted with in order to make us feel that we are somehow in a "postgay" era of rainbow joy are of affluent, white gay men, obviously not the reality (yet somehow we still buy into it–!). Each section of the book, in its depth as well as variety, proves Walters to be a sheer master at what she does. As an accomplished sociologist, she clearly has spent time diving into in various pools of knowledge, from science to religion to politics to culture. She never stretches out of her bounds, and never once loses us along the way. Enough can't be said about all the incredibly interesting, inciting ideas contained within these 300-or so pages, so please, discover it all yourself. I one hundred percent recommend The Tolerance Trap to anyone looking dip their toes or sink their teeth into some major game-changing queer theory. Walters will no doubt make you look at your own feelings, arguments, ideas, and instincts under a whole new (rainbow) light.