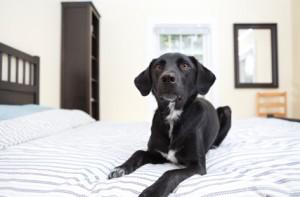 According to the American Pet Products Association, almost half of all dogs sleep in their owner's beds. Even despite attempts to teach their pups otherwise, through crate training or by offering deluxe and luxurious dog beds, some dogs enjoy the solidarity and togetherness that sleeping in the same bed as their owners provides.
However, opponents fear there are risks to sleeping alongside a pet. Some believe it exposes owners to a variety of health issues, while others claim it leaves your dog at risk for otherwise avoidable injuries.  For current owners, or those exploring the option of getting a dog, the experts advise to keep the following in mind before establishing a bedtime routine:
1)   Risks – For very young or older dogs, allowing them to sleep in bed with owners puts them at risk for physical injuries. Puppies and senior dogs need special attention and care for their developing (or sensitive) joints and muscles. The act of jumping in and out of elevated beds can put unnecessary stress on their ligaments, and may subject them to injuries. Rather, many advise pet owners to invest in orthopedic dog beds which are specially manufactured to allow even distribution of weight and cushioning.
2)   Health Issues –Those who suffer from asthma or allergies should take careful consideration before allowing their dog to sleep in the same bed, or even room, as them. Experts also suggest allergy-prone individuals should invest in an air filter to help clean the air from dander which can cause a flare up. Extra precaution should be taken for those who are sensitive sleepers. Sharing a bed with your pet can cause for restless nights. In fact, 53% of owners claim their pets have interrupted their sleep patterns in some way.
3)   Benefits – Many claim that allowing their dog to join them in bed not only added to their bond, but also gave them a sense of security. For some, their sleep issues were cured by the togetherness they felt with their dog joined them; they felt safer and the calm they felt listening to the rhythmic breathing patterns allowed them to fall asleep quicker. Other studies have shown that allowing dogs to sleep in bed with their owners proved physically beneficial for their owners – in some instances blood pressure was lowered, while stress and loneliness were also diminished.
As each case (and canine) is unique, there isn't a set standard on whether it's advisable to share one's bed with a pet. Rather, it's recommended to keep in mind your preferences and sleeping patterns. Once established, consistency is fundamental. Animals thrive on patterns, especially when it comes to establishing territories, therefore if you choose to separate your sleeping arrangements, avoid sending mixed signals. Do not invite your pooch to join your side for a late-night movie. Also, understand what is best for your pet. If you believe he'd fair better with his own sleeping quarters, don't try to lure him into bed with you. After all, it may be that your snoring is interrupting your pup's slumber!
This article is brought to you by the writers at Wet Nose Guide, a dog directory for owners on the go. When you're on the town, find dog businesses, such as dog friendly restaurants and dog runs to satisfy your canine's cravings!