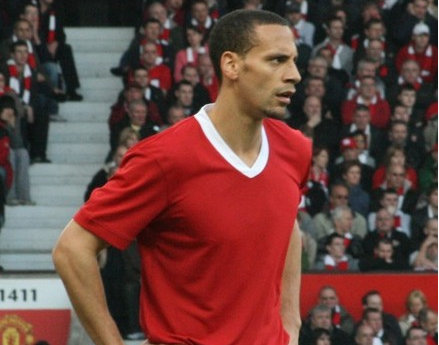 Rio Ferdinand in choc ice Twitter storm. Photocredit: dullhunk
The background
Derbyshire police are investigating alleged racist comments against footballer Ashley Cole, in which he was branded a "choc ice" for supporting his fellow player John Terry in court. Terry called Rio Ferdinand's brother, Anton, a "black c*nt", but was deemed not racist.
The choc ice tweet was shared to Rio Ferdinand's 3 million followers, who added "I hear you fella! Choc ice is classic hahahahahaha!!" The original tweet is being investigated, not Rio Ferdinand. Ashley Cole says he is not offended. The tweet is being investigated because of public complaints. Ferdinand says it's not a racist term, but means someone who is a fake. He's since deleted it.
"Ashley Cole has been made aware of the discussion following comments appearing on Twitter and wishes to make it clear that he and Rio Ferdinand are good friends and Ashley has no intention of making any sort of complaint," said Ashely Cole's lawyers in a statement.
Who's meant to be offended?
Grace Dent on The Independent was peeved. She wondered who in particular might be offended – "Cole himself? … Is it all British people of colour? Is it all mixed race people? Is it all British white people?" Pity Derbyshire police's "resident vaguely tech-minded officer." Sure, footballers and Twitter make a "particularly virulent cocktail." Just look at the messages hurled at Premier League types – it's "like putting one's face against the outgoing sewage pipe on Blackpool beach and letting turds bash your forehead." There should be a special branch of the FA to investiage them. It's "ironic" to see this one tweet under scrutiny.
Racist comments should be discouraged; but the police shouldn't have to investigate them all
The Sun's editorial urged common sense. It's right that the FA "has decided enough is enough" when it comes to these tweets – but the police shouldn't have to investigate all the time. Footballers, and other celebs, should set an example, though, "by cutting out racism and other prejudice." Twitter isn't just "private banter" – it's "public statements."
Such language is a reflection of the public
Ferdinand's already been punished, said Givemefootball – he's been off the England team, and the case over his brother and John Terry means that Rio can no longer play with him. The actual issue is "much wider" – these comments are a "fair – if often exaggerated – reflection of today's society." Such language is common the pitch, and will inevitably appear on social media. "That doesn't make it right. It's just a fact."