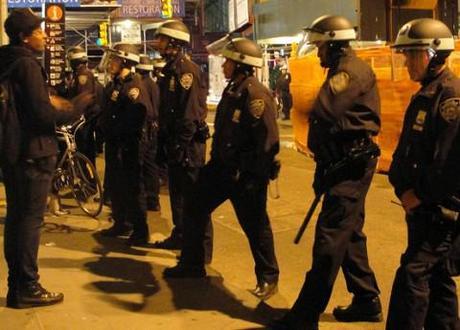 OWS eviction. Photo credit: Nick Gulotta, http://flic.kr/p/aETUu9
Police have evicted protesters from the Occupy Wall Street camp in Zuccotti Park, in Manhattan's financial district, where tents have been in place since 17 September. The NYPD moved to clear the OWS camp in the early hours of this morning; with rumours of police brutality and a media blackout flying, New York Mayor Michael Bloomberg released a statement saying it had been his decision to act.

Peaceful eviction? According to The New York Times, many protesters left of their own volition after police moved in and tore down tents. However, a group of around 100 barricaded themselves in the kitchen area of the camp; they were eventually handcuffed and removed by NYPD officers. A police spokesman told the NYT that 70 arrests were made. Peter Walker reported on The Guardian liveblog that a video has been circulating on Twitter initially appeared to show police using tear gas on protesters, but that it now seems likely to have been vapour from a fire extinguisher. Indeed, Twitter is awash with reports that police were at best heavy-handed during the eviction, with #policebrutality trending. Some media reports also suggest police did use unnecessary force: "Riot police waded in, forcibly shoving bystanders and protesters aside with, as far as this reporter could see, an excessive degree of force," said Ishaan Tharoor in Time.
Media blackout? Tharoor also said that he and other reporters were kept away from the scene by police, who barricaded the surrounding streets. What's more, rumours are growing that police tried to limit media coverage of the eviction by preventing a news organisation from using a helicopter to film. Gawker's Scott Kidder tweeted: "CBS News NY News Desk tells me their helicopter was forced down by NYPD — they had to go down for fuel but weren't allowed back up.#ows."
Bloomberg under fire. The mayor said in a statement that protesters were evicted for health and safety reasons, and that the camp had affected the quality of life of residents and businesses. According to The Wall Street Journal, the camp has turned into "a vexing saga" for Bloomberg, and that the eviction may galvanise protesters. Ahead of the camp clearance, Adam Martin wrote for The Atlantic Wire that Bloomberg's attitude to the Occupy protest has not been entirely consistent: "He's been critical at times, confrontational at others," said Martin, pointing out that in one interview the mayor even appeared to declare that the camp was unobtrusive.
Not over. Protesters have gathered in Foley Square, near City Hall; according to the official Twitter feed, they plan to march on Bloomberg's press conference. And according to a New York Times blog, protesters may even head back to Zuccotti Park: a judge has issued a temporary restraining order that allows OWS supporters to re-enter the park with tents.