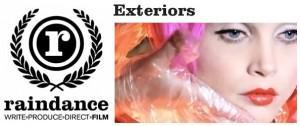 Allan Hyde, best known to True Blood fans as Eric's maker Godric, has a new film that will be airing at the Raindance Film Festival called 'Exteriors'.  The movie by Patrik Syversen and Marie Kristiansen has been nominated for the Best Debut Film at the 19th annual festival and is about two struggling foreign actresses who are in LA during pilot season.  'Exteriors' will screen October 8th and 9th at the Apollo Cinema Piccadilly in London, England and tickets are £10. 
To learn more about the festival and to purchase your tickets click here.  To learn more about 'Exteriors' you can visit the film's official Facebook page here. 
We would like to thank AllanHydeNews.com for sending us this submission. Truebloodfansource.com is always looking for news to post so if you have any tips, suggestions or articles you would like to see on our site, click here to contact us.
Source:  AllanHydeNews.com – 'Exteriors' at the Raindance Film Festival
Photo Credit: AllanHydeNews.com