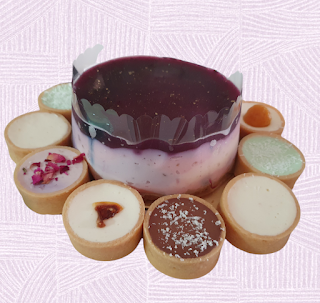 Funny story - I was first exposed to cake smash when one of my BFFs had a baby. I still remember in the group chat we were all like "Huh, what?" "Why would even want to do a photoshoot on that?" I was so baffled. Now that I am a mother with my own little boy, I am like we
need to give him a photoshoot on his first birthday to capture that moment
. 
To be frank, I am not hard on a cake smash. I just wanted a
fun concept
so I explored several options:
Smashing a watermelon - The photographers told me the photos won't come up as good
Coloured cereals as confetti - Was too worried he would eat them all, how unhealthy
Milk Bath - Still thinking about it (maybe I will save it for #2) hehe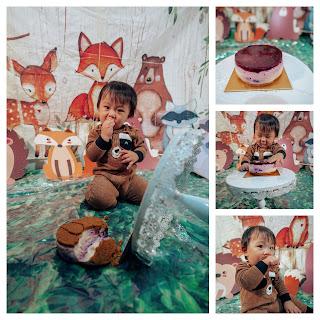 In the end, we settled for cake smash cos I
found a baby-safe version
at Skinny Tofu Tarts (
less than $30 too!
). And it was
really pretty
too, so pretty in fact I hesitated to let my son smash it. The cake is
made of tofu and fruits
(actual tiny fruits pulps mashes can be found).My son loves tofu so he was more than happy to eat it, he ate a good half of it in fact. 
The photographers actually
recommended a 5" cake
. Ours were 4" and I think it works well. I just couldn't imagine the consequences if my son tried gobbling down a 5" instead. This cake
doesn't come with cream but it still creates a decent amount of mess for the effect
. Some babies hate being messed up by cream so
cakes like this scare them a lot less
and you can still
get to take photos of them interacting with the cake.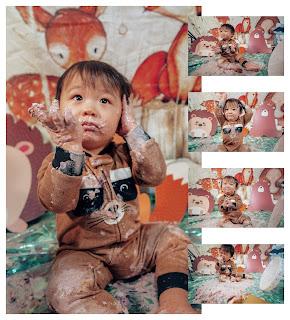 Some of you may be wondering so what's the whole deal with this cake smash concept? Based on my research, it supposedly
commemorates their first exposure to sugars
(babies don't take sugared products before 1YO). When they taste it, they might
give the confused face or flash the sweetest smile
. And also the
mess they made is adorable
.
Parents can either choose to do the
photoshoot themselves or engage a photographer
. We chose the later because the
mess can be massive
. His red panda costume is of our own (regrets) LOL cos I took a while to clean off the cake. And it does help to have an experienced photographer as they can
help to encourage to take a bite and know the better angles
!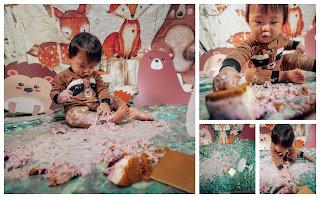 We happen to take the shoot on our baby's lunar birthday so I decided to get the
mini tartlet versions (8 for $16)
as well for the family. After trying them for ourselves, I can understand why my baby love it. They are like
egg tarts with fruit flavours
. My
BIL hates tofu but he took 2
LOL! Quoted from him "the smell of tofu is effectively masked!"
Overall, I would think
both the custard and crust is very well done
. The price for the cake is definitely a lot more affordable in comparison. Don't be too surprised if you see us ordering more for the special occasions in the family! It also does help that these sweet treats are healthier versions and can be enjoyed by both the very young and very old (which we have both in our family!) Haha. 
***
Bite Size Affair
 is currently having a 10% discount in Oct. Quote "ba13yg" for an additional 10% off! After Oct, quote "ba13yg" and you still can get 10% off!