In today's society, we really don't have the option of going without our Intimates. Society has made it so a woman walking down the street without a bra on or no panty lines is a big No No! Isn't it just ludicrous? I mean, who makes these "standards"? Is it women who are saying it's wrong to do or is it men? We will probably never know the answer to this.
Today I wanted to share some great deals with you from True & Co.

True & Co. is one of my newest Affiliates. I've been scrolling through their products and adding items to my Wishlist. They have so many pretty bra's, which I'm a huge fan of. If I'm forced to wear a bra, I want comfort and pretty!
Intimate Picks
Modern Cotton Bra

Price: $24.00
Path Reversible Bra

Price: $30.00
Mallory Seamless Day Bra Bra

Price: $34.00
Bralette Bra

Price: $44.00
Convertible Wirefree Bra

Price: $44.00
Coquette Bra

Price: $45.00
Pushup Bra

Price: $46.00
Bump It Up Bra

Price: $46.00
Best Lace Thong Ever 3-Pack

Price: $33.00
Cute & Comfy Hipster 3-Pack

Price: $33.00
Best Lace Hipster Ever 5-Pack

Price: $55.00
Cute & Comfy Hipster 10-Pack

Price: $70.00
What Did You Think of Those?
Of course, a gal can't have too many bras or panties but if she is married, her spouse might not like the credit card bill. If your spouse or significant other would ever throw that bill in your face, you might try this.
You know, if you're going to bitch every time I spend money to keep my girls and bum pretty and covered, I can just go without! Are you going to mind other men ogling at my girls while they are bouncing up and down as I walk? How about on those chilly or windy days when my headlights decide its time to be one?
See how he likes that one.
But There's More!
If those products didn't thrill you or you're not in the market for new bras and panties, there is always loungewear and lingerie to shop at True & Co.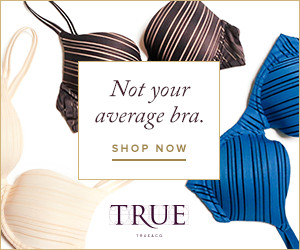 Wanna see more? Let me know below!