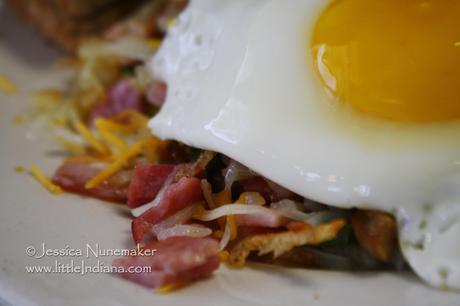 Hubs and I escaped to the Wolcott Theater Cafe in tiny Wolcott, Indiana. Has it really been a whole two days since I've written about food in some way, shape, or form? Impossible!
Wolcott, Indiana is in a different time zone from us so we got to choose between breakfast or lunch! Hubs ordered the Breakfast Scrambler–as you can see from that yummy photo on the left.
I, on the other hand, saw the Buffalo Burger and had to try it! I paired it with cheese fries and prepared to make hubs insanely jealous. Did it work?
If you take a look at the photo below, I think it's safe to say we were about even! The Wolcott Theater Cafe was simply excellent.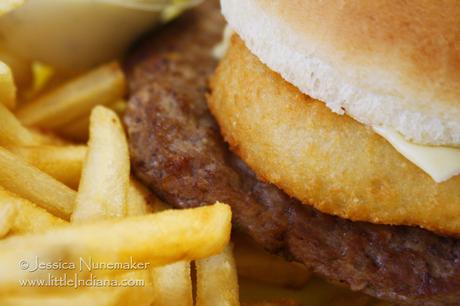 Inside, it's got that whole small town cuteness thing going on. Occasionally someone would walk in and the owner would comment that she had the fish that so and so liked or checked to see if someone wanted the same side as usual. Don't you just love that?
The Wolcott Theater Cafe has great food, friendly people, and pretty much oozes small town charm. See for yourself–I don't think you'll regret it!
As always, check out my Flickr photostream for Wolcott, Indiana and other Indiana towns goodness!
Wolcott Theater Cafe
201 N Range St.
Wolcott, IN 47995
219.279.2233

View Larger Map
little Indiana: Where to Stay, Play, and Eat in Small Towns in Indiana. Discovering Indiana's best small towns!
Help little Indiana win a $2000 grant for web design tweaks and advertising. Simply click here: It will take you to a Page on Facebook. In the right-hand corner click "vote" and you're done! Vote every day until April 15, 2011. Thanks!