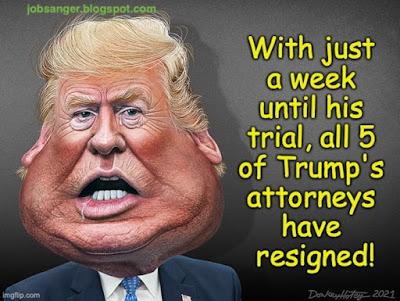 Donald Trump had hired five attorneys to represent him at his Senate impeachment trial. All were attorneys respected in Republican circles.
I say "had", because those attorneys have all resigned. They will not be representing him at the trial. Why?
It seems that the attorneys wanted to attack the charges by claiming they were unconstitutional since Trump was no longer president. It was a very weak argument, but it's basically all they had.
But Trump didn't like that. He wanted them to claim the election had been stolen from him. That was something the attorneys could not do.
An attorney cannot use a defense they know is a lie. They must have at least some evidence that the defense they pursue could be true. But they know it wasn't, because there was no evidence at all for it. That meant, if they pursued that course (knowing it was a lie), they could lose their law licenses. They could find themselves in the same boat as Rudy Giuliani, who took that lie to court without evidence and is fighting now to retain his law license. They had no option except to drop Trump as a client.
Now Trump faces the prospect of entering the trial without an attorney, since he will be unlikely to find one that will represent him by lying to the tribunal. 
I suspect he will get some of the craziest members of Congress to speak on his behalf -- the ones who have been pushing the lie to their base -- maybe someone like Jim Jordan, Louie Gohmert, or Marjorie Taylor Greene.