All Missourians Pay for a St. Louis Football Stadium?
There's a report out today from St. Louis and their Post-Dispatch saying all Missourians are going to be asked---required?---to pay for a new St. Louis Rams football stadium so they can keep the team: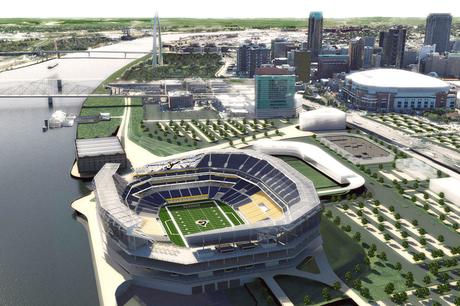 Edward
Jones
Dome
authority
to seek
state
tax
credits
The public entity that owns the Edward Jones Dome plans to seek $50 million in state tax credits from the Missouri Development Finance Board to help build the proposed stadium aimed at keeping the NFL in St. Louis.
The St. Louis Regional Convention and Sports Complex Authority will formally present its request Tuesday when the finance board, which funds infrastructure and economic development projects, holds its regular meeting in Jefferson City.
This is just nonsense.
There are only two groups of people for this tax boondoggle. Well, only two besides the owners of the stadium who have their hands out. Those two groups are the rather small number of football sports fans in the area there support it and the people that want it for business purposes, also a relatively small group. That's it.
The entire state of Missouri--all the workers and middle- and lower-class people, all the rest of us shouldn't have to pitch in.
Basically, this would be pitching in millions of dollars for billionaires so they can make more money.
It's obscene. It's ridiculous
You know what else is obscene about it?
Those billionaire fatcats are also very likely Republicans and/or Right Wingers and "conservatives" and supposed fiscal conservatives who swear we should have "small government" and no welfare for others.
What is this but welfare? It's corporate welfare and of the worst, biggest kind.
This whole thing should get a resounding "HELL NO" from any and every government official in Jefferson City and all across this state.
Well, except for the government officials in St. Louis, of course, who are bound to want it.
And I'd say the exact same thing if it were on the West side of the state for the Chiefs or Royals, too.
Let the billionaires build their own playgrounds.