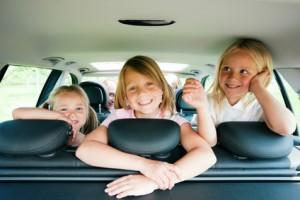 Once your kids are born, perspectives on vehicles change dramatically. Safety, spaciousness, reliability and eco-consciousness take on a new dimension, changing from preference to necessity. Price is always a top consideration, which can make it difficult to find the green car of your dreams on a budget. When shopping for your family car with bad credit, consumers have a slew of choices nowadays.
Former buy-here-pay-here DriveTime dealerships have evolved to allow improved payment options for the buyer's benefit. In this list, we've compiled approximate prices from KBB.com to reflect the cost of a new earth-friendly car bought (with standard options) to aid your decision. The following quartet of cars have our vote for best family vehicles.
2013 Honda CR-V [Price: $23,000]
Powered by a 2.4-liter four-cylinder engine, the CR-V will effortlessly transport your family and haul your goods to wherever your destination may be. Not only is this Honda crossover slick but safe as well. Wide-angle side mirrors, electronic stability control and side-curtain air bags are standard safety features. Its rear seats fold down for greater cabin space that the kids will surely appreciate on family outings. An adjustable cargo area has no problem in storing a double stroller or an entire family's luggage.
2012 Toyota Prius v [Price: 27,000]
For the family of four going green, the Prius v is as roomy as it is efficient. A 1.8-liter 4-cylinder gas engine joins forces with a 60-kilowatt electric engine to economically transport your family. The Prius v can pass many a gas station with its 42 combined miles per gallon. The Prius v's surplus of space is surprising for a hybrid but a boon for families. Plenty of storage nooks and 67.3 cubic feet of cargo space enables the Prius to carry just about anything that's thrown in it. As if that's not enough to sway you toward this green machine, consider the 6.1-inch touchscreen infotainment system with backup camera—they come standard.
2012 Honda Civic [Price: $17,000]
This compact sedan's price tag is desirable for families with a tight budget. The 2012 Civic steers like a dream and achieves impressive mileage of 41 miles per gallon on the highway. A family of five will feel snug, but comfortable inside. Under the hood, the Civic delivers with a simple, yet forceful powertrain generating 140 horsepower. The Civic is loaded with airbags: dual-stage, multiple-threshold front airbags and side-curtain airbags ensure family safety.
2012 Ford Flex [Price: $30,000]
Not as popular, but family-friendly, the boxy Ford Flex is not only spacious enough to carry you and your spouse, but your kids from infancy to adulthood. The Flex welcomes seven, long-legged passengers with open arms. Cargo-wise, its three passenger row seats can be folded down for 80 cubic feet of cargo space to make way for any massive objects. Drivers will notice astounding maneuverability for its bulky frame and near-silence courtesy of the Flex's thickly laminated glass.

About egreen
has written 1 article(s) for EnvironmentGreen.com.
View all posts by egreen

→

Web Site
Share
Filed in: Green Tips & Advice