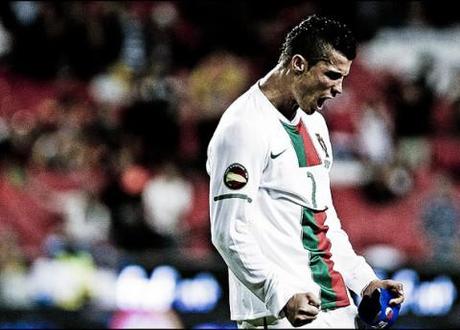 Portugal player Cristiano Ronaldo. Photo credit: Jose Goulao http://flic.kr/p/8Uf196
The background
Spain take on Portugal in the first of the Euro 2012 semi-finals in Donetsk, Ukraine, tonight. Reigning World Cup and European Championships holders Spain are widely regarded to have the best team in the northern hemisphere and probably the world. But, in jet-heeled and hair-gelled Cristiano Ronaldo, Portugal possess the best player in the tournament, and, arguably, the best player in the world (Lionel Messi fans would disagree). Pre-match hype in the sports pages has focused on the Ronaldo show.
The ultimate 'I' versus 'us' clash
"Football has rarely known such a polarisation of the concepts of 'I' and 'us' as the one we can expect in the Iberian shoot-out at the Donbass Arena," said James Lawton of The Independent, who referred to Ronaldo as an "individualist" and Spain as the "embodiment of selfless teamwork." "The issue is simple enough. Few players have ever believed in themselves quite as much as Ronaldo. Few teams have ever despised the cult of the individual more deeply – or successfully – than Spain. It means that Ronaldo is about to face something of an ordeal, one which might just decide a tournament which has rarely been less than intriguing." If Ronaldo were to propel Portugal to Euro 2012 glory, Lawton said it would be an equivalent personal achievement by one star player akin to how Diego Maradona "all but carried Argentina on his back" to World Cup triumph in Mexico City in 1986.
It's all about Ronaldo
"It's all about Cristiano Ronaldo," said Richard Williams at The Guardian Sport blog. "A simple way of looking at the match between Portugal and Spain on Wednesday night might be as a contest between the individual brilliance of one man and the collective genius of an entire squad. Can the defending champions, perhaps the most team-minded outfit of all time, stop the captain of Portugal from becoming the star of the tournament?" Williams noted that the only thing missing in Ronaldo's bulging trophy cabinet is a major international tournament winner's medal.
Form-player Ronaldo can power Portugal through
"If Cristiano Ronaldo performs as well against Spain as he has done so far at Euro 2012, I expect Portugal to qualify for the final," said ex-France international Patrick Vieira at The Telegraph. Playing for Real Madrid, Ronaldo "will know that the whole of Spain will be focused on this game and he will be desperate to win and prove a point at the same time," predicted Vieira, who reminded that, "it was the same with Zidane at the World Cup in 2006. He was a star at Real Madrid at the time and, when we played Spain in the second round, it meant so much to him to win the game and Ronaldo will have the same motivation."
More on football
Joey Barton: Beyond redemption?
Balotelli: The ultimate maverick
Gary Speed's death an accident?