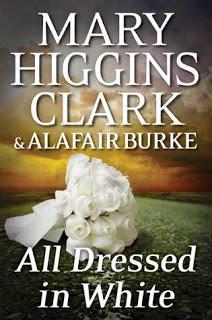 ABOUT THE AUTHOR:
The second thrilling novel in the New York Times bestselling Under Suspicion series following The Cinderella Murder, featuring intrepid television producer Laurie Moran as she investigates the case of a missing bride.
Five years ago Amanda Pierce was excitedly preparing to marry her college sweetheart in a lavish ceremony at The Grand Victoria Hotel in Palm Beach. Then, with their guests and families on site, Amanda disappeared.
In present-day New York City, Laurie Moran realizes a missing bride is the perfect cold case for her investigative television series, Under Suspicion. She and her team set out to recreate the night of the disappearance at the Florida resort with Amanda's friends and family in attendance, hoping to shed new light on the mystery as the series has done in past episodes. With a jealous sister, playboy groomsmen, Amanda's former fiancé now married to a bridesmaid, and rumors about the "beloved" bride herself, Laurie and Under Suspicion host Alex Buckley quickly realize everyone has a theory about why Amanda vanished into thin air.
One thing is certain: whoever was behind Amanda's disappearance plans to keep the truth hidden "until death do they part…"
The bestselling Under Suspicion series from Mary Higgins Clark and Alafair Burke offers "plenty of intrigue and excitement" (Publishers Weekly, on The Cinderella Murder). Featuring the chilling suspense and elegant settings readers have come to love, All Dressed in White is not to be missed.
MY REVIEW:

All Dressed in White by Mary Higgins Clark
My rating: 5 of 5 stars
"All Dressed in White" by Mary Higgins Clark and Alafair Burke
"All Dressed in White" is the second book in the Under Suspicion series co-authored by the much esteemed Mary Higgins Clark and Alafair Burke.
Laurie Moran's wildly popular crime show, Under Suspicion, features profiles of cold cases in hopes of finding a resolution. Missing persons is not their usual forte, but when the mother of Amanda Pierce asks Laurie to help her uncover the truth about her daughter's mysterious disappearance, Laurie agrees to look into the case.
Amanda and Jeff were the golden couple, all set to begin their life together. But, on the eve of their wedding, Amanda vanishes without a trace. Had she simply walked away or did someone murder her? Who stood to gain from her death? Who were her enemies? What secrets will float to the surface once Laurie and her team start digging around in the past? Will they find Amanda dead…or alive?
I love cold case mysteries more than any other type, so after reading "The Cinderella Murder," I knew this series was for me. While the first book was very good, this second installment is even better.
It's bad enough when someone is murdered and years pass without justice being served, but when someone disappears for five long years, it's unlikely they simply ran away. Still, by now the details are murky, there is no body, no proof of a crime, and people have moved forward with their lives. But, bringing all the players back together to tape the show reveals a few cracks in the armor within Amanda's own family, her friends, and with the all too perfect fiancé.
This story is absorbing and kept me guessing all the way to the bitter end. I loved it! The pacing is perfect, the story is compelling, the mystery is a real puzzler, and is written by two of my favorite female mystery writers. This is a clean mystery, without graphic details and the language is very mild, making this a story everyone can enjoy. 4.5 stars.
Reviewed by Julie Whiteley for Suspense Magazine
GET YOUR COPY HERE:
http://www.amazon.com/All-Dressed-White-Under-Suspicion-ebook/dp/B00UDCI30E/
http://www.barnesandnoble.com/w/all-dressed-in-white-mary-higgins-clark/1121494770
ABOUT THE AUTHORS: