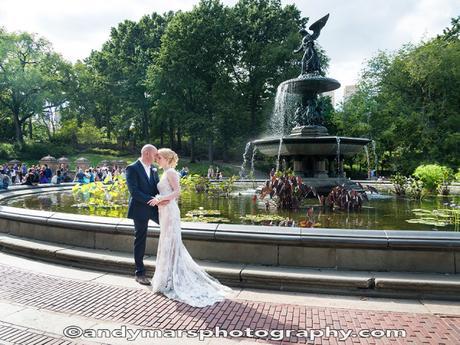 Alistair and Victoria eloped from their home in Boston in England this September to get married at Wagner Cove. They met in 2014 at a children's play area. Their toddlers started playing together by chance. The grown-ups got talking and things progressed from there. Alistair proposed in London's Hyde Park near to the Serpentine Waterfall. They had both discussed wanting to visit New York one day and their engagement in this iconic park in another major city influenced their decision to get married in Central Park.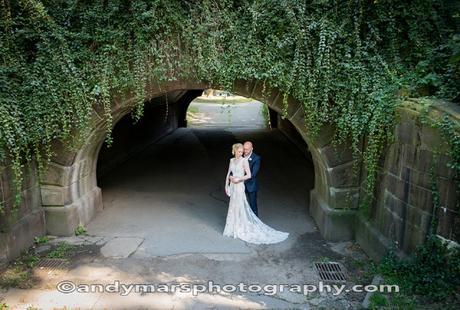 Being married is important to Alistair and Victoria because they feel that it shows a higher level of commitment. They have three children between them and this marriage unites them as a family and symbolizes Alistair and Victoria's commitment in a clear way for their children.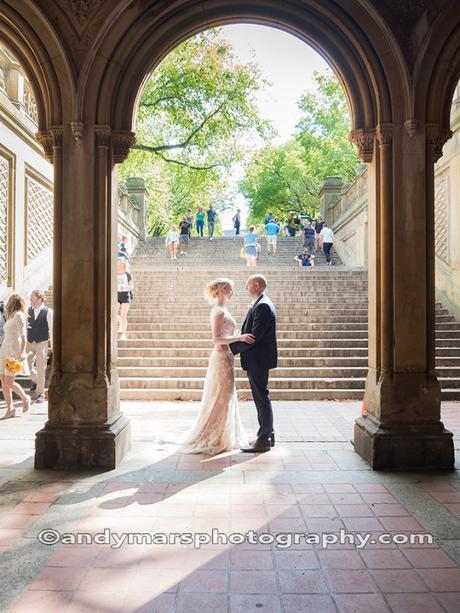 I asked them if they had any concerns about getting married in Central Park and Alistair said that they were a little worried about getting married in a public place. They had chosen one of the most private locations, Wagner Cove, but the area remains a public right of way, even with an event permit. Our fabulous photographer, Andy Mars, put their mind at rest about this when they met her.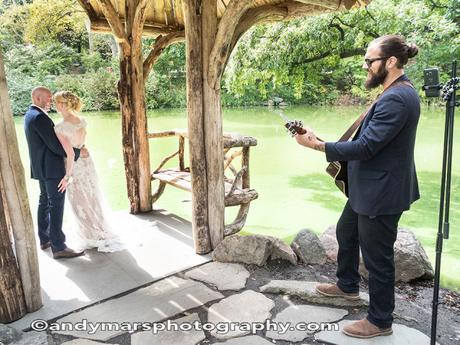 Wagner Cove is in a secluded spot right by the Lake. It is accessed by some stone steps that would be very easy to miss if you didn't know that they were there. I arranged for a guitarist to play at their wedding ceremony location. Alistair and Victoria had made some special requests and the guitarist had learnt them specially for the occasion in advance. He played a little before the ceremony, then a special request part way through the ceremony, after the officiant had made the introduction but before Alistair and Victoria started to make their promises to each other.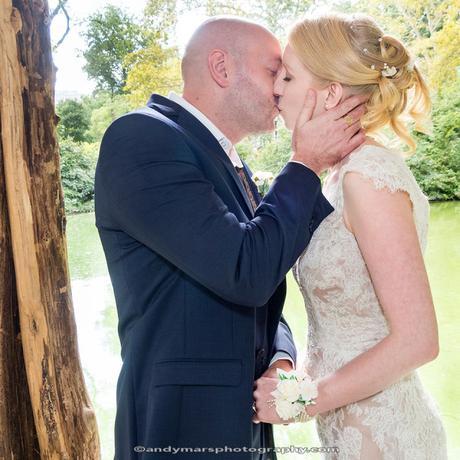 OLYMPUS DIGITAL CAMERA
They said that their favorite photos were taken down by Wagner Cove because they loved the seclusion as a picturesque back drop to the pictures. Their photographer took them to several other locations in Central Park for photographs, and the couple were pleased to have photos taken in the more iconic locations such as Bethesda Terrace and by the Fountain, but they were very happy with their decision to have the ceremony somewhere less populated.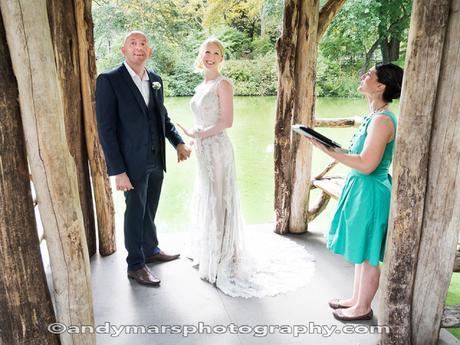 Alistair wore a three piece blue suit with a white shirt and brown shoes. Victoria wore a champagne satin dress with full length lace overlay and train, purchased from The Bridal Lounge near to their home. Victoria had her hair and makeup done by Salon De Quartier on 2nd Avenue.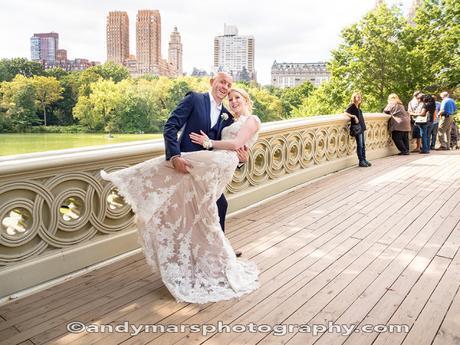 Alistair and Victoria stayed at the Waldorf Astoria for ten nights. Though they eloped a friend who lives in New York was able to join them for the wedding ceremony.  After their photographer left them they had a drink in the Loeb Boathouse in Central Park with their friend, and then after that they went on to the Chart House in Weehawken for a celebratory meal.
I asked them if they had any tips for anyone considering getting married in Central Park. Alistair suggests that anyone thinking of doing it should have a good think about what they want from a wedding ceremony location, and ask lots of questions of their planner to be sure that they have the right spot for them. I think this is great advice. We are much more able to help couples get what they want if couples know what it is that they want. Sometimes I encounter couples who really haven't thought things through early on in the planning process and they might be disappointed. Alistair also pointed out that some of the public restrooms are of a low standard of cleanliness. I would add that they do see a huge volume of traffic every day, and that they have stood up rather well considering the plumbing is over a hundred years old and there really are not very many of them. But I agree that if I was wearing a long white gown I wouldn't really want to use them. I would also add that couples should check which bathrooms are closest to their wedding location (or ask me), because there really are very few bathrooms in Central Park.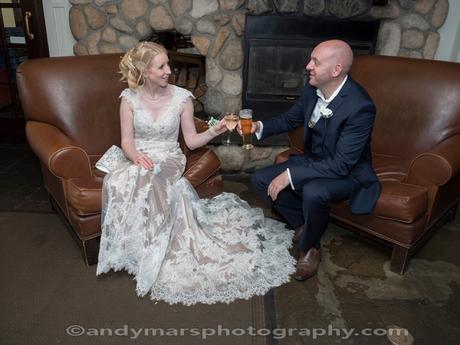 I asked for any other comments on Wed in Central Park and he said "we can not fault the service we received, Claire was informative, helpful and able to answer any questions easily and in good time." He added, "thank you once again for everything, you really made our day special." Thank you for sharing your story with us, Alistair and Victoria, I wish you the best of luck for your future together with your family. For more information on planning your own Central Park wedding, visit our website, or "like" us on Facebook for photos and more inspiring stories.