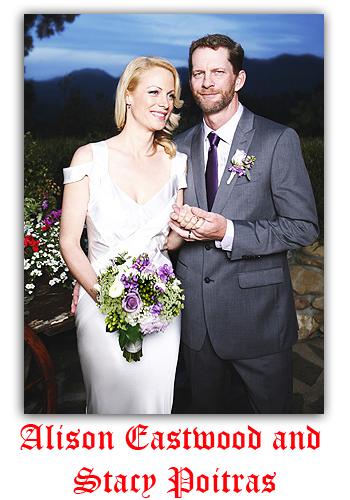 Alison Eastwood tied the knot with sculptor Stacy Poitras before a small gathering of family and friends in California. The wedding took place on Friday at the Saddlepeak Lodge in Calabasas.
The bride wore a 1930s-inspired beaded gown by Les Habitudes. The couple's wedding rings were designed by Philip Press.  "We are thrilled to be surrounded by our family for this very special day and appreciate their love and support as we begin our married life together."
The guests also included Alison's mother Maggie; her jazz musician brother Kyle Eastwood; actor brother Scott Eastwood of Trouble with the Curve; sister Kathryn Eastwood; Clint's wife Dina Eastwood and Poitras's brothers Mark, Matt and Bobby.
Eastwood, a 40-year-old producer and director, and Poitras, of CMT's "Chainsaw Gang," met five years ago when she rode a horse into his studio at the Rustic Canyon General Store and Grill in Agoura, California. The two began dating and he proposed two years later.
Poistras said he asked Eastwood's father for his permission before the proposal.
"He looked at me for four or five seconds, which felt like 15 minutes, and then he said, 'You're going to have to take that up with her.' "I said, 'Is that a yes or a no?' And he said, 'That's a yes," and he shook my hand."
They then announced their engagement in 2012.
"He's my best friend; He's the first man who has been the closest person to me," said Alison.
Eastwood, 40, who is also a producer and director, recently appeared in the documentary American Mustang and the National Geographic Wild's show Animal Intervention, which helps owners of exotic animals find appropriate homes for the animals.
She also launched the Eastwood Ranch Foundation, a charity dedicated to raising funds and awareness for animals in need.
Cheers to the couple!!!