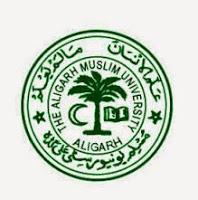 Aligarh Muslim University (AMU) is the proud institution for millions. They have invested the best part of their ages in gaining knowledge from this historical land of Sir Syed. But natural, they would stand tall against any force that accompanies illicit intentions to malign the dignity of this profound education epicenter. The same happened when some some non-serious media coverage attempted at maligning the reputation of Maulana Azad Library.
Whatever be the motive behind intruding into the peaceful environment of the university, this foul play found no space among the concerned ones. Instead, the combined efforts of the AMU VC, its alumnus, patrons, and existing students led to further curtailing doing of the dirty intentions of all the anti-social elements.
The institute has its own rules, regulations and guidelines, that have been effective in safeguarding the interest of its students and all other associated people, ever since it found its realms.The out of place discussion on providing freedom for girls to visit the library therefore holds no waters.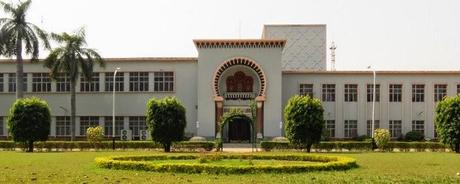 Maulana Azad Library, AMU, Aligarh
We could have a separate coach for females in the Metro trains, permission for sisters to commute free of cost on DTC buses to tie rakhis to their brothers, and even separate toilets for women. All these things are from the government, and exist to help women in India feel safe and have their share of privacy, which they deserve. So what is the point of going against the university's rule to study in a women only library. Does university exist somewhere outside the country? Not at all! In fact, its not the students but some miscreants, who find the integrity of the world famous university, as the sore of their eyes.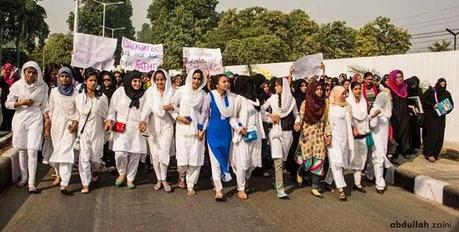 AMU Female Students Protesting Against Biased Media Reports
The need is to eradicate all such forces from the roots, so that we could free our education system as well as the nation from such corrupted minds.The mass level procession attended unanimously by all and sundry in the Aligarh Muslim University is a welcome retaliation. Especially, the girls participated in large volumes with placards of supporting messages, like "VC is our father", "VC stands with the women of AMU" , "We will not let media defame AMU", etc. The procession was a befitting reply to those favoring biased reports. Hopefully the torch bearers of its integrity and dignity would continue to protect and enhance its image till eternity.