Today we're going to hop across the Atlantic for a French whisky review: the Alfred Giraud Harmonie French Malt Whisky. Not yet well known as a major whisky producing region (but one of the highest consumers of the liquid) the French have been more miss than hit so far, but like the American craft scene I think it just needs some time. Time to dial in the process and time for the liquid to mature.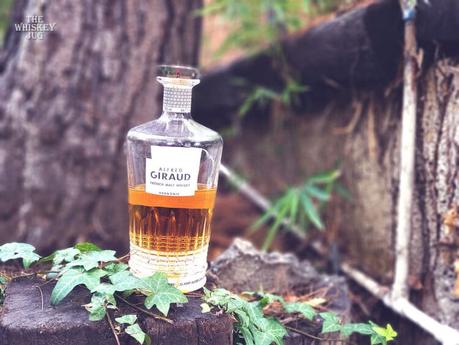 Also like the American craft whiskey scene, the whiskeys that are making it here are priced incredibly high and relatively young. Which is just, kind of, what happens when you have an emerging brand in a category that has a massive start-up cost. Efficiencies of scale have yet to occur.
And while things like Kornog typically run in the $100-$120+ range, the one I'm tasting today tends to hover around double that. Some of which might be due to scarcity. They only release 7 casks of this per year. This one came from a tasting the SCWC did at the end of 2019.
Alfred Giraud Harmonie French Malt Whisky Review: Details and Tasting Notes
In Distillerie de Saint Palais's Words:
"A very limited-production whisky dependent on the availability of exceptional casks, Harmonie begins with a blend of three non-peated French malt distillates matured in three types of casks: the vast majority include casks previously used to age extra old cognac plus some new casks made from French Limousin or American oak. The triple malt is then matured exclusively in ex-extra old cognac casks, then blended with a lightly peated French malt distillate before being finished in the same ex-extra old cognac casks until reaching the optimal flavor profile."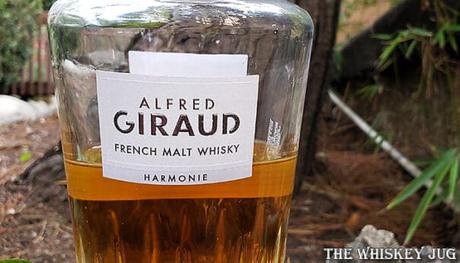 Details (price, mash bill, cask type, ABV, etc.)
Region: France
Distiller: Distillerie de Saint Palais
Mash Bill: 100% Malted Barley
Cask: ex-"Extra Old" Cognac, New Charred French Limousin and/or American oak
Age: NAS
ABV: 46.1%
Non-Chill Filtered | Natural Color
Price: $190
Tasting Notes
EYE
Light honey
NOSE
Spirit, herbal (almost hoppy), touch citrus zest and clove with bits of waxy vanilla.
PALATE
Spirit, citrus, hay, malt, herbal, waxy vanilla and some stale spice.
FINISH
Med -> Spirit, waxy vanilla and citrus zest.
BALANCE, BODY & FEEL
Not balanced, thin body and watery feel.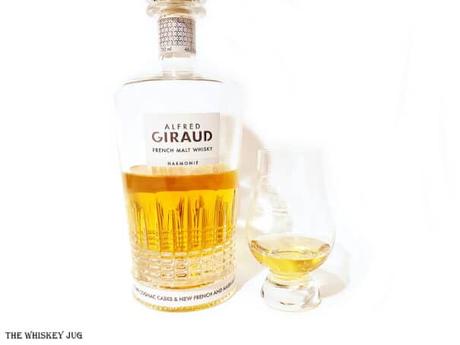 Alfred Giraud Harmonie French Malt Whisky Review: Overall and Score
Aroma is young and raw but has a nice crispness to it, it's very spirit driven and I'm not getting a ton of wood influence; Palate is a touch woodier but the main note is that same youthful spirit; Finish continues the youthful spirity profile but with just a tad bit of sweetness and smoke popping in.
I'm not totally sold on their "extra old" cognac casks as anything more than a marketing point. After a while casks lose their ability to enhance a spirit. There's a reason casks don't get used more than a couple of times over a couple of decades. I'm wondering if they'd get a better result with fresher casks; it could also be the casks are fine and it just needs more time. Either way, it's lacking in complexity and maturity.
While I'm not a fan of this whisky in its current state, I do think it's a good start and shows a lot of promise. It's a clean-tasting spirit and I'm especially digging the waxiness here. It makes me think that in a few years it could end up having something along the lines of a Clynelish in terms of delivery and complexity. But not now, now the Alfred Giraud Harmonie French Malt Whisky is young and raw and spirity.
SCORE: 1.5/5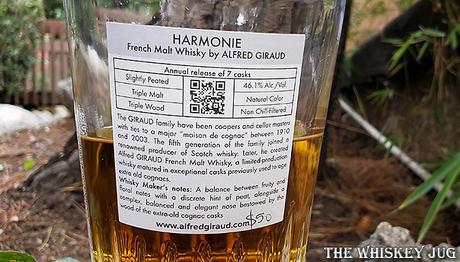 Alfred Giraud Harmonie French Malt Whisky Review
$190
Overall
1.5
Nose

(1.5)

Palate

(1.5)

Finish

(1.5)

BBF

(1.5)
Sending
User Review
0

(

0

votes)
Comments Rating
0

(

0

reviews)

Alfred Giraud Harmonie French Malt Whisky Review Summary
There is a lot of promise in this whisky, but it has a way to go before it starts approaching the complexity of most base-line single malt Scotches.