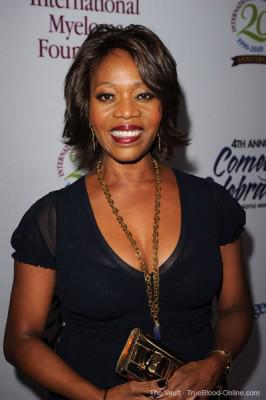 True Blood's Alfre Woodard has been appointed to the American Film Institute (AFI) Gala Benefit Committee honoring 39th Life Achievement Award recipient, Morgan Freeman.
Other members of this year's committee include Ben Affleck, Jim Carrey, Clint Eastwood, Tom Hanks, Ashley Judd, Helen Mirren, Mike Nichols, Jack Nicholson, Brad Pitt, Sidney Poitier, Robert Redford, Tim Robbins, Steven Spielberg, Hilary Swank, Denzel Washington. AFI will present the 39th AFI Life Achievement Award – America's highest honor for a career in film – to Freeman on June 9th. "TV Land Presents: The AFI Life Achievement Award Honoring Morgan Freeman" will air on TV Land on Sunday, June 26, 2011 at 8:00 p.m. ET/PT.
The black-tie event will take place on historic Stage 15 at Sony Pictures Studios, where "The Wizard of Oz," "Grand Hotel," "Spiderman" and other classic movies were filmed. The stage will be transformed into an elegant ballroom to honor the storied career of Morgan Freeman.
Proceeds from the AFI Life Achievement Award Gala directly support the Institute's national educational programs and the preservation of American film history.
source: pr-usa.net