First, a little background. WonderCon is a comics and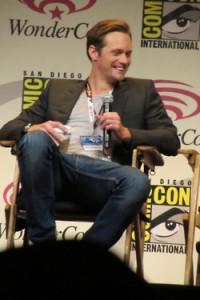 media convention produced by the same group who brings us the San Diego Comic-Con. While much smaller in attendance (by several thousand) than its big sister, WonderCon does not fall short in quality programming.
I attended WonderCon on Saturday, March 17. It was held at the Anaheim Convention Center, not far from Disneyland. A primary, although not singular, motivation was to see the panel promoting the upcoming film 'Battleship'. Panelist Alexander Skarsgård, who portrays Viking vampire Eric Northman on HBO's series True Blood, plays Stone Hopper in 'Battleship'. This is my first-hand account from dead-center in the room and reflects my perceptions, observations and opinions.
Living just outside of Los Angeles, I have been privileged to see Mr. Skarsgård in person four times, including WonderCon. I have previously attended the True Blood panels at both Comic-Cons in which he appeared, as well as PaleyFest in 2011.  He is typically very engaging and witty, answering questions openly and teasing fellow panel members.
When Mr. Skarsgård was introduced and entered the stage, a large group of 6-8 women seated around me gave a collective gasp. They all watch True Blood but apparently were unaware either that Mr. Skarsgård was in 'Battleship' or that he was scheduled to appear that day. The group began to giggle and squeal, shifting in their seats, several of them saying – in loud voices – "It's Eric Northman!"
Mr. Skarsgård typically wears a suit to panel appearances, but this day he was dressed more casually in jeans, gray Converse tennis shoes, a gray t-shirt and dark jacket. It could have been a concession to exhaustion (due to a late night filming of True Blood) or to the unusually heavy rain storm we experienced. Rounding out the panel was Director Peter Berg (Friday Night Lights, The Kingdom) and co-star, Brooklyn Decker (Just Go With It).
The first video clip shown was an actual sequence from the film. It featured Ms. Decker, Mr. Skarsgård and Taylor Kitsch (Friday Night Lights, John Carter). Mr. Kitsch plays Alex Hopper, brother to Mr. Skarsgård's character (who did not attend the panel). Mr. Skarsgård's performance in the clip ranges from funny, to brotherly, to annoyed, to resigned and culminates in horrified surprise. It was entertaining and a pleasure to watch.
Skarsgård Found Working on "Battleship" to Be "scary":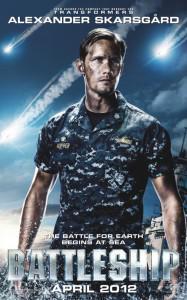 When the panel moderator asked Mr. Skarsgård what it was like working on such a large and complex production, he answered: "Scary". He then explained that in a particular scene, a window is blown out and the glass and debris strike him. The shot was accomplished with a large air gun that Mr. Skarsgård said resembled a World War II cannon. The blast had been strong enough that his reaction was genuine; no acting had been required.
Peter Berg, who directed the film, paid Mr. Skarsgård a compliment. He said that when casting, he seeks out smart and complicated actors, which he considers Mr. Skarsgård to be.
Two more clips were shown of the film before the panel was concluded. On the whole, the movie appears to be a traditional summer action flick that could prove to be highly entertaining. In addition to the cast already mentioned, it also stars Liam Neeson (Clash of the Titans, Schindler's List) and singer Rhianna in her acting debut. Mr. Skarsgård's role seems to be sizable and significant and makes me wonder if this won't be what catapults him from genre popularity to outright stardom within the U.S.
Battleship releases overseas in April and hits theaters in the U.S. May 18th.
Photo: whoalopez.tumblr.com