Movieline has voted Alexander Skarsgård's film, Melancholia as Best Film Of The Year.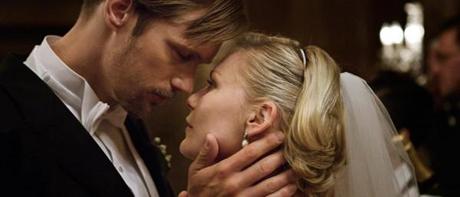 Here's why critic Alison Willmore chose Melancholia for the number one spot.
The opposite of love isn't hate, it's indifference, and in Lars von Trier's film it's the awesome force of Kirsten Dunst's depression-fueled disinterest that exudes a gravitational drag on everyone around here even before the arrival of the destructive planet of the title. Before the breathtaking apocalyptic imagery appears — the object looming closer in the sky, the static sparking from fingertips — Melancholia is already a devastating look at an illness that leaves you unable to connect to what life has to offer, even on an extravagant wedding day that seems to compress half a lifetime into a night. But it's that the film turns to offer a sympathetic eye to Charlotte Gainsbourg's anxious sibling in the second half that makes it great, and that gives it a soul. As she struggles to hold everything together in the face of approaching disaster, even Dunst's depressive is moved to offer her a conciliatory gesture as the world ends.
source: movieline.com