There is no such thing as to many Skarsgård covers printed in the world!
And in that spirit, I was extremely ecstatic when our friends over at ASkarsgard.com shared that Alexander was on the cover of the Swedish magazine Lifestyle: The Luxury Dossier and  a 7 page spread.
Here are some of the scans and Swedish translation shared by ASkarsgard.com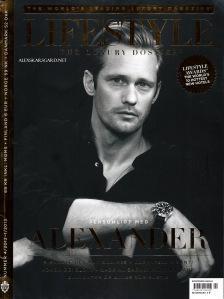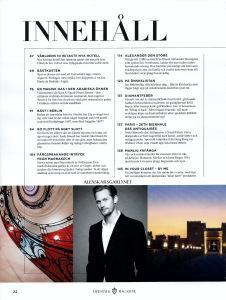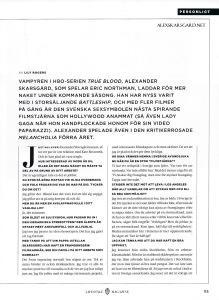 ALEXANDER, THE GREAT

The vampire in the HBO series, True Blood, Alexander Skarsgård, who plays Eric Northman, gears up for more nudity in the coming season. He has just been featured in the blockbuster BATTLESHIP. With more movies to come, and again the Swedish sex symbol, he is the next thriving movie star that Hollywood will embrace. (Also Lady Gaga picked him for her video PAPARAZZI.) Alexander also acted in the critically acclaimed MELANCHOLIAlast year.

Alexander Skarsgård is now living alone, after a few years in a relationship with Kate Bosworth. And he is happy to be single.

How interested in fashion are you? Or is it just something you have to pay attention because of your work?
- It's not really part of my job.

You are seen on the red carpet at various events and people ask what you are wearing. Do you like it?
- I like it. Sometimes it can be fun to dress up. I like to put on my suit every now and then.

But you are a more casual guy in your normal life?
- Yes, that's true.

As the oldest of seven siblings, how do you fit into the hierarchical stereotype? The oldest is often the most responsible and serious.
- I think I fit the stereotype. I've done it for a while, actually.

Gustaf, Stellan and Alexander Skarsgård

Given your father (Stellan Skarsgård) has had a successful movie career, do your family see your work as normal?
- There's nothing normal about any of us. I think we are all very supportive to each other and they know I'm having fun right now. I get to work in so many interesting projects with interesting filmmakers and great actors. They see I'm happy and it makes them happy.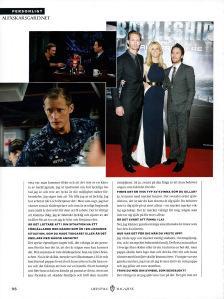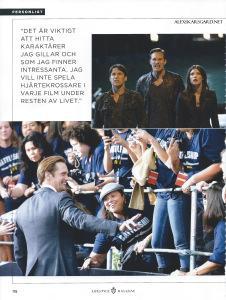 As a fellow oldest child, I completely embrace the stereotype as well.
For the full translation and to see all of the scans, click here!