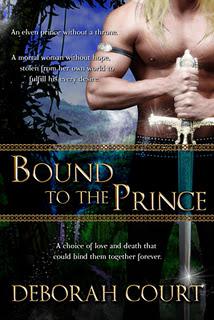 A self-published author and fellow Eric & Sookie Lover, Deborah Court mentioned she would like Alexander Skarsgard to play the role of her hero in her "Bound To The Prince" novel, if it were ever turned into a movie!
This is what she said in a recent blog interview about her book;
Which actor would you choose to play the role of your hero should "Bound to the Prince" ever be turned into a movie?

Alexander Skarsgard. He has the perfect face and tall, athletic physique to play an elf, and he would be able to play the dark side of Elathan's character very well.
Book Description:
"Bound to the Prince" is a Paranormal Erotic Romance, with elements from fantasy, Celtic mythology and the Arthurian saga. It's set in today's London and in Fearann, the elven kingdom – a medieval fantasy world of noble knights, monsters and magicians. Basically, it's a love story between two creatures, human and elf, which couldn't be more different.
Fallen from grace, elven warrior prince Elathan is living in exile, separated from his own people. When he beholds a strangely compelling woman on a London bridge one night, he abducts her and takes her to his lair, commanding her to be his slave of pleasure.
Igraine Chandler, a nurse from New Jersey, might not be everyone's idea of a perfect romantic heroine. Recently dumped by her faithless fiancé, she's heartbroken and bereft of all her hopes and dreams. But she soon finds herself in a world beyond her wildest dreams, fighting at her prince's side to help him reclaim his throne. However, can she survive a night of untamed passion in the arms of a Fae, and will she be prepared to die for his immortal love?
---
Sounds interesting? We certainly hope so! The self-professed Eric & Sookie Lover author wanted us to share this with you! Judging by the description of the book, we think that the role sounds like something Alexander Skarsgard could portray perfectly (just like all of the rest of his roles)! He does love to play challenging roles…
If you are interested in reading the book – below are some important links to find out more info on Deborah and details on how to buy her book! (You may want to bookmark these.)
Her website: http://www.deborahcourt.com/
Her blog: http://deborahcourt.blogspot.com/
Her Twitter: @Deborah_Court_
Her Facebook: www.facebook.com/profile/Deborah Court
Her Goodreads: Deborah Court – Goodreads Author
Her Google +: Deborah Court
As an added bonus…she is going to write a story about Eric & Sookie – which we'll post exclusively on here once it's completed! She hopes to make it very erotic!

How lucky are we to have an author do this for us?
What do you think? Share your thoughts below!
PS. I will be reading and reviewing this book as soon as possible!