Alexander Skarsgård is featured in the November 2012 issue of the German InStyle Men Magazine!  Our good friend and fellow Eric & Sookie Lover, Jill – was gracious enough to not only scan the magazine for us, but included the full translation of the article!
Check out the scans below!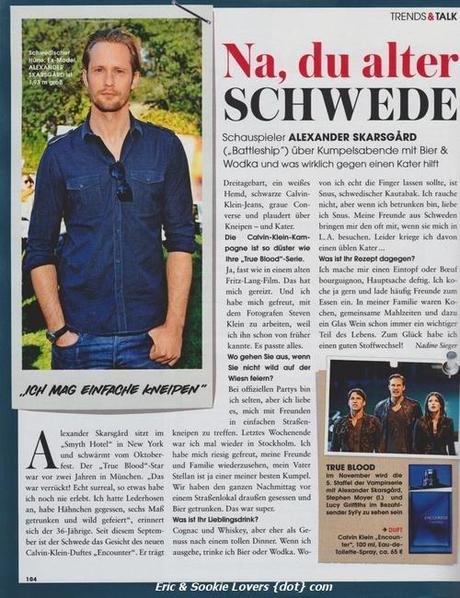 Alex is featured in the "Trends & Talk" segment  as translated below.
Hey, you old Swede!
Actor Alexander Skarsgård ("Battleship) about Nights with Buddy's, Beer & Vodka! And what really helps if you have a hangover.
Alexander Skarsgård sits in the "Smyth Hotel" in New York City and raves about the October fest. The "True Blood" Star was two Years ago in Munich. "Its was crazy! Really surreal, I have never experienced something like that before. I wore leather pants, ate chicken and had 6 measure of Beer. I really partied hard!" remembers the 36 old man. Since this September the Swede is the new Face of the new Calvin Klein fragrance "Encounter".
Alexander Skarsgård wears a three-day beard, a white Shirt, black Calvin Klein Jeans, gray Converse and chats about Pubs and Hangovers!
InStyle Men: The Calvin Klein Campaign is gritty like your "True Blood" – Series.
Skarsgard: Yes, almost like a Fritz-Lang Movie. I was really attracted to this Project! And I was really happy, to work with the Photographer Steven Klein. I knew him in the past and it was great and so well.
InStyle Men: Where do you like to go out?
Skarsgard: I rarely visit official Party's, but I love to meet my friends at local Bars or Street-Pubs. Last Weekend I was in Stockholm again. I was really happy to see my friends and family. My Dad Stellan is one of my best friends, so we sat the whole Afternoon outside at a Street-local and had some Beer. This was great!
InStyle Men: What is your favorite Drink?
Skarsgard: Cognac and Whiskey, but more as a enjoyment after a great Dinner. When I go out, I drink beer or Vodka. But I should keep my Finger off "Snus" its a Swedish chewing tobacco. I don't smoke, but when I'm drunk, I love Snus. When my Friends from Sweden visit me in L.A. they often brought my some Snus. But unfortunately I get a Hangover from it.
InStyle Men: What is you recipe against a Hangover?
Skarsgard: I cook some stew or Beef bourguignon, the main point is: Hearty! I love to cook and to invite my Friends. In my Family were cooking, collaborative Meals and a good glass of Wine really important Part of our lives. I'm glad, that I have such a good metabolism.

Special thanks again to Jill – who also makes our "Icons of the Month"!