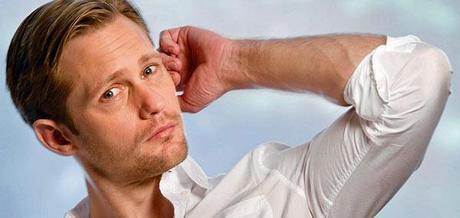 Alexander Skarsgard, whose star has been rising rapidly since landing the role of Eric Northman in HBO's True Blood, has maintained a very down to earth attitude about his success and fame.  He recently spoke with the LA Times about working on True Blood, what we can expect to see from Eric in Season 4 and the pitfalls of fame. 
While fans only get to see the glitzy side of fame like the parties, red carpet outfits and awards ceremonies, the cast of True Blood works extremely hard for their success.  On top of having to keep in fantastic shape for all those nude scenes, they often film for long periods, particularly at night.  Skarsgard recalls one instance where him and Allan Hyde, who plays Eric's maker Godric, were hanging from the ceiling first thing in the morning:
"We shot that early in the morning after the Golden Globes two years ago.  At 7 in the morning, I'm hanging from the ceiling in a Nazi uniform with fangs in [my mouth]. I look over and I see [Allan] there in his Nazi uniform hanging like a puppet. We're about to descend down to kill this wolf, you know? And that was the moment where we just looked at each other like, 'This is what we're doing for a living?'"
True Blood has continued to grow every season with an average of 13 million viewers tuning in for each episode during Season 3.  That will likely grow during Season 4, especially if you happen to be a Skarsgard fan.  When asked what he thinks draws people to the show, Skarsgard says that on top the sex and violence, it is also grounded and about society.  However one of the other big draws is the love triangle between Sookie, Bill and Eric, although you can say its more of a square if you add Alcidein the mix. This season, as with book 4, Eric will be cursed with amnesia and will finally get his shot with Sookie.  Skarsgard is excited about the upcoming season and the differences we will see in Eric:
"It's a completely different side of Eric.  He doesn't know who he is so all that baggage is gone — 1,000 years of resentment and bitterness, the whole loathing humanity kind of stuff is gone. But there has to be an element of danger there still. I didn't want him to become too much of a little puppy…. I don't think it would be fun to watch him for very long if he was completely emasculated."
On top of True Blood, Skarsgard has a number of other projects on the go, including the upcoming remake of 'Straw Dogs', Lars von Trier's 'Melancholia' and the big budget film 'Battleship'which is based in part on the board game.  Skarsgard says he is drawn to roles where the character is neither purely heroic or villainous because he always finds it more interesting when that line is blurred.  Peter Berg, the director of 'Battleship' describes how Skarsgard became involved in the film saying:
"I was first made aware of Alex Skarsgard by the 15 women who work in my office who came in collectively as one with a picture of Alex and said, 'He is going to be in "Battleship." It's nonnegotiable.  When they left, I pulled up some 'True Bloods' and really liked the show and thought that he was completely right for this character. I had a great meeting with him — he and I spent a day on an aircraft carrier in San Diego. After that I was convinced he was the right guy for the film. He had a real sense of what the purpose of that role was. He had really strong opinions and ideas."
However with this success also comes the pitfalls of fame.  Skarsgard still struggles with the flipside where he is followed, people write about what he wears, what he eats and what he is up to.  In Sweden, where he grew up, the paparazzi doesn't follow you and they allow you to have more of a life. 
You can see Skarsgard in True Blood Season 4 premiering June 26th and Melancholia and Straw Dogs will both be released by the end of the year.  Fans will have to wait until next May to see Battleship.  To read the entire article about Alexander Skarsgard click here. 
Source:  LATimes.com – It's no horror story for Alexander Skarsgard
Photo Credit: Ricardo DeAratanha / Los Angeles Times