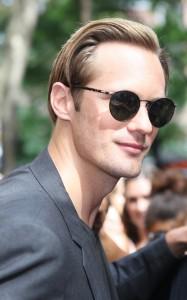 True Blood's Alexander Skarsgård opted to keep a lunch date in the East Village to chat about his upcoming thriller, Straw Dogs (out Sept. 16) even though many were evacuating New York City.
As it turns out, this isn't the first time he's dealt with a natural disaster.
"There was a bigger earthquake when I was in Romania a couple years ago," for work, Skarsgard said. "I was in my hotel room and I'm from Sweden – we don't get earthquakes there. This was before I'd moved out to Los Angeles so I'd never experienced one before. You realize that Mother Earth is pretty powerful. You just can't escape." He was watching a movie in bed when the earth began to shake. "Everything started shaking, paintings fell off the walls," he said. Though he and other guests were briefly evacuated from the hotel, "we were fine."
So has he stocked up for Irene?
"No," laughed the actor, who's holed up in a NYC hotel while shooting a new film, What Maisie Knew. "You?" When his interviewer told him there was some wine on hand, he replied: "I've got some wine as well," adding, "That's all you need, right?"
Hurricane Irene is expected to hit New York City tomorrow night. Stay safe, Alex! 
source: usatoday.com