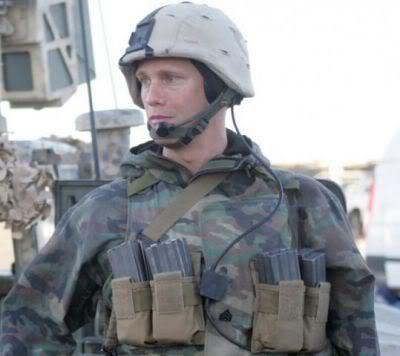 True Blood's Alexander Skarsgard (Eric Northman) was in Toronto for the Toronto International Film Festival and the New York Times collected fan questions to pose to him.  The questions ranged from who he would like to work with, to 'will you marry me' and he took time to answer ten of them.
First up, a fan noted the differences in the physical characterization of Eric Northman and the role of Lincoln in 'What Maisie Knew'.  The fan asked what discussions or collaborations go into determining the physical presence and representation of a character and Alex replied:
To me, it's all about inspiration. What gets me creatively excited is a challenge. There's gotta be a discovery. When I read a script and have my first interaction with this character, do I feel like there's something I'm gonna learn here? If I feel like it's something I've done before, then what's the incentive for me to do it? That's why, after playing Eric Northman for seven months shooting a season, I don't want to play Eric Northman in a movie, but just without fangs. I want to try new things.
The next question had a fan asking if he would like to do a comedy and he said he would definitely love to do it because it is different and something he hasn't done in a while.  He has done some comedy in Sweden and his first part in the United States was a small role in the movie 'Zoolander'.
Elaine from Nashville asked Skarsgard who he would most like to work with and if he will ever direct a movie.  He replied that he would most like to work with French actress Isabelle Huppert who he says is "amazing".  As for directing, Skarsgard says that he has directed a bit in Sweden and that he wrote and directed a short film a few years ago entitled "To Kill A Child".  His younger brother played the kid in the movie.  He says he would like to do more directing but that it is about finding the right project and about timing as well.
Another fan asked Alex if he could play any of the characters his father, Stellan Skarsgard, has played who would it be.  His reply was 'The Simple-Minded Murderer', a Swedish film that Stellan did, or 'Breaking the Waves'.
Next up Skarsgard is asked what his favorite things are about Sweden that he can't get in the United States.  He replied:
The most obvious answer is: the reason I go home is family. But also, I've been in L.A. for 8 years, so all my memories there are from being an adult; oh, I went to that restaurant with that friend. In Stockholm, it goes deeper because when I walk down the streets, every single street corner will mean something. There will be a history there. There's a connection to my childhood there. It means so much to me to go home and relive all those memories.
One fan asked Alex if his perception as a sex symbol impacts his real life relationships in either a negative or a positive way.  He replies that he never Google's himself or reads blogs about himself.  He also says he would never say yes to a role just to play the hot guy.  He needs to have depth to the role or it is not creatively fun for him.
An Australian fan asks Alex if there are any roles based on books that he would really love to play.  He says there is one that he really likes but that it might happen so he can't talk about it yet.  He then reveals that "Lolita" is one of his favorite books but there are already two film versions of that movie so it's not likely. 
Alex was then asked which of his roles to date has been the most challenging for him and he replied:
Brad Colbert in "Generation Kill." It was my first big role in the States. It was a very intense experience. We shot it for seven months in the Kalahari desert. It's about the war in Iraq, not the politics of it, but about the men and women there on the ground. So I just think I felt the weight of that and the importance of getting it right.
The final question was Amy Lynn from Lexington asking Alex if he will marry her to which he say "of course".  To read all of the questions and answers you can click here to view the article.
Source:  NYTimes.com – Alexander Skarsgard Answers Your Questions
Image Credit: HBO