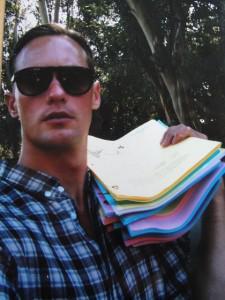 Fans of HBO's True Blood will be able to not only score some 'one of a kind' merchandise from the hit series, but they will also be able to help out Greenpeace as well!
The first item to be auctioned is a script that was used by Alexander Skarsgård. It has handwritten notations throughout and is signed by the actor who plays viking vampire, Eric Northman. The script is for the finale of Season 3, which was entitled 'Evil is Going On.' It was directed by Anthony Hemingway and aired on September 12, 2010.
If you want to place a bid, it can be done here.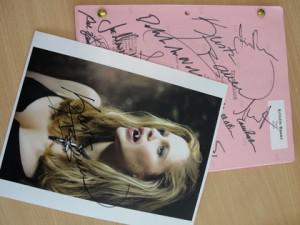 The second item up for auction is a signed True Blood script that was owned by Kristin Bauer van Straten. While the actual episode the script is for has not been mentioned, there are a few special extras that go along with it (if Kristin's signature and handwritten notes aren't enough). She has managed to get the script signed by the following True Blood actors: Alexander Skarsgård, Joe Manganiello, Sam Trammell, Deborah Ann Woll, Jim Parrack, Carrie Preston, Brit Morgan, Todd Lowe, Marshall Allman, Dale Raoul, Fiona Shaw, and Rutina Wesley. You also get a signed photo of Kristin as vampire Pam thrown in as well!
If you want to bid on this auction, you can do so here.
Sources: CharityBuzz – An Autographed True Blood Script from Star Alexander Skarsgård. Used by Alex with Notes in the Margin!
CharityBuzz – Autographed True Blood Used by Kristin Bauer and Signed by Nearly the Entire Cast!
SkarsgardNews – Greenpeace Auction To Raise Money For New Flagship "Rainbow Warrior."
(Photo Credits: CharityBuzz)