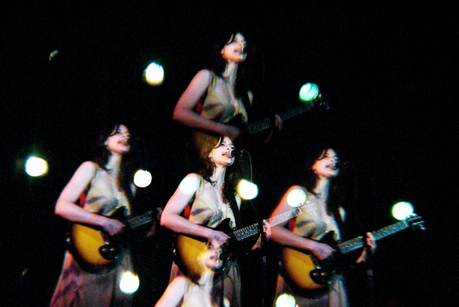 Photo credit: Eric Luc
The chilly New York night was complimented by the melancholic folk that Alexa Wilding (@alexawilding) and Cristina Black (@cristinablack) brought to Mercury Lounge. The lovely, large-voiced girls held their small but attentive crowed in enraptured silence throughout each set.
Cristina Black began the night with accompanying piano and stand up bass. Without much movement or banter between songs, her clear, strong voice and intricate songwriting were the centerpieces of her set. While the slow, sad aspect of the songs tended to blend them together, the refreshing frankness of her voice kept her listeners waiting patiently by the stage.
At 10:30 Alexa Wilding took the stage, immediately silencing the half full room. Having grown up with a cinematographer father and avant-garde actress mother in the same village building as Thurston Moore, her upbringing is absolutely apparent in everything she does. From her quirky stage presence to her wispy voice and songwriting style, everything about Wilding screams 1980's West Village. She moves and sounds a bit like a mixture of Stevie Nicks and Joan Baez and holds the room like a girl who has been performing all her life. Her breathy voice moves quickly from a brittle whisper to a powerful and soulful croon, adding intensity and emotion to music that would lack those qualities otherwise.
Wilding preformed with two other musicians, a singer/pianist and a guitarist that, with Wilding's own guitar, created a full sound that kept the music from being overly reminiscent of slight female folk from the 1990s. The most welcome addition came with the harmonies from Wilding's singer/pianist (who is pregnant- Congratulations!) that added a great depth to the music.
The highlight of the night came with the song "Knife", a dark ballad off Wilding's upcoming record that features idiosyncratic rhythms to cradle her dark vocals. The performance proved that Alexa Wilding is more than an interesting back-story and an odd resemblance to Stevie Nicks — she carries real musical weight.

View Photo Album