Hey Eric & Sookie Lovers!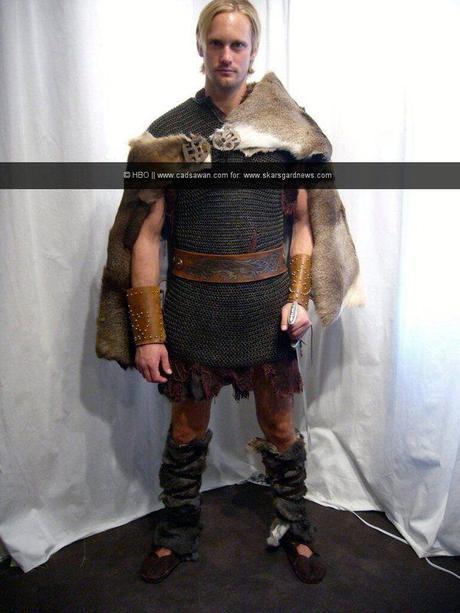 Image credit: HBO and skarsgardnews.com
Have you ever dreamed of watching Alex playing in another role as a Viking? He most definitely has the right look for the part.
Thanks to Variety.com, we may see him do just that! This is what they wrote just a little while ago;
EXCLUSIVE: Atlas Entertainment has preemptively sold an epic Viking pitch to Warner Bros. with "True Blood" thesp Alexander Skarsgard attached to star and, for the first time, produce.

Project is going under the working title of "The Vanguard," with acclaimed playwright Chris Boal is set to write the script. Story follows the adventures of two Viking warrior brothers who embark on a journey to return to Sweden after being banished to North America.

Additional story details are being kept under wraps, but the project, being eyed as a potential tentpole for WB, will in the vein of Best Picture winners "Gladiator" and "Braveheart."

Charles Roven and Richard Suckle will produce for Atlas, whose young execs Andy Horwitz and Jake Kurily brought the project in and will also be involved in some producer capacity. Skarsgard will make his producing debut with "Vanguard," signaling his rise in stature following his starring turns in Universal's "Battleship," Screen Gems' "Straw Dogs" remake and Lars von Trier's "Melancholia."

Jon Berg and Chris Gary will oversee the project for WB.

Warners is clearly high on Boal, having recently acquired his original pitch for another epic about Roman general Gaius Julius Caesar, which Jonathan Liebesman is on board to direct and Basil Iwanyk will produce through his WB-based Thunder Road banner. Boal is no stranger to the legend of Caesar, having gained strong notices for his play "23 Knives," which concerns Caesar's autopsy. Scribe also directed and produced all the behind-the-scenes footage for the DVD release of "The Hurt Locker," which was written by his half-brother Mark Boal.

CAA reps both Skarsgard and Boal, who are also repped by Principal Entertainment and Madhouse Entertainment, respectively.
Please note: this has not been confirmed by Alexander or anyone close to him. 
But if it IS true…can't wait for this movie to be written, filmed and released!
What about you? Share your thoughts below!