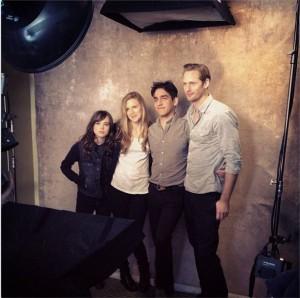 Premiering January 20th at the Sundance Film Festival, The East is a film starring Alexander Skarsgård (Eric Northman) of HBO's series, True Blood. Mr. Skarsgård was joined by the film's other cast members in discussing its central theme; is there morality in terrorism?
The East is an espionage thriller that focuses on an operative, Sara Moss, played by Brit Marling. Sara is investigating a group of eco-terrorists targeting big businesses causing harm to the public. The group is loosely led by Benji (Mr. Skarsgård), who Sara finds herself drawn to. Ellen Page rounds out the cast as a group member named Izzy.
Mr. Skarsgård explains the film's theme:
"The question is, morally, where do you draw the line? How far are you willing to go for this cause? …it's not preachy. It's complicated. The way life is and reality is."
While attending The Sundance Film Festival, Mr. Skarsgård also found time to meet with fans and sign some autographs outside of Village At The Lift.
Sources: Bjorn Larson, AlexSkarsardnet.com, JustJared, USA Today