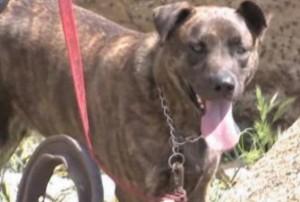 Man's best friend will be a rescued hiker's pal for life.
A California man was trapped between rocks for "four-to-six days" on a mountain before he was rescued by another hiker – and his alert rescue dog.
Riverside resident Ramon Llamas was climbing Mt. Rubidoux on Monday morning when his dog, Mole, started acting up.
"He likes to go look in the rocks and he kind of pulled me over, pulling and crying and I said, 'What's going on boy?'" Llamas told KABC in Los Angeles.
Llamas feared there might be a wild animal lurking about, but the mystery turned out to be a 44-year-old man named Paul trapped in the rocks. Even though he was trapped close to the main trail, Paul did not have a cell phone on him and was unable to dig out of his trap.
"He said he'd been there between 4-6 days with no food," Llamas said.
Llamas gave Paul water and called for help. The Riverside Fire Department's Technical Rescue Team pulled him out of the rocks and took him to Riverside Community Hospital, where he is being monitored.
"In talking to him, he came up here during the night time, so we think he was unaware of his footing, slipped in between some rocks and slid down to the location where he was at," Riverside Fire Capt. Bruce Vanderhorst told KABC.
~ Courtesy of NY Daily News
Tags: dog find hiker, dog hero, dog saves hiker, dog saves man, hiker stranded