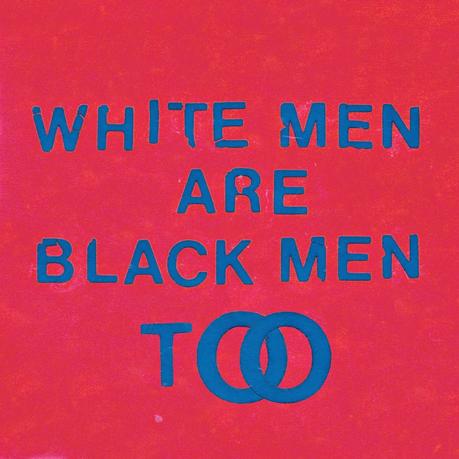 What a whirlwind year it's been for Edinburgh's favorite sons as their first proper record Dead amazed critics, pleased fans and won some award down in the big smoke.  A lot of bands would see the latter as an assurance that they're doing alright.  They might go off for a few years and work on another record, or ride on the wave of album sales that follow a Mercury win.  Young Fathers have taken their winnings and recorded a brand new record for us, and it's great.  One thing's for sure, don't assume Dead is Young Father's finest hour just yet.
Album opener Still Running announces the album by caving in the wall rather than using the door, blowing heavy electronic dirty pop our way.  The tribal noise marches in with soft peculiar xylophone underneath.  The combination of separate sounds merged into hooky pop songs is a theme that continues throughout White Men Are Black Men Too.
So far we've heard two singles.  Track two, Shame is one of those and it's the first of many on the album which will send crowds into frenzied dancing when the band take this album across the UK next month, especially the exploding glitch towards the end of the track.  Other single Rain or Shine is the album's biggest draw popularity wise and it's a perfect fit into the album's ordering.  The track builds up Kilimanjaro sized with crushing drums, rising synths and vocal 'whoa's which then lead into a Godzilla-esque siren which tears everything in its path.
Loudness on the album is important. Early number Feasting is the closest piece of music to embodying the first beam of light that pierces your eyes when you draw open curtains in the morning, such is its loud bright sound.  John Doe is as close to indie rock as Young Fathers get on this record, with it sounding fairly like a TV on the Radio cut, with a big chorus.
The lyrical content of the record is as creative and powerful as the big sounds on show.  The track 27, plods along like a happy Passion Pit song fell into a mixing bowl of distortion but in truth the track is about the worry of falling into the 27 Club, the name given to brilliant musicians who left us too early.  Sirens is a pause to get your breathe back over the frenzy but it's a song about the band empathizing with family over what sirens mean, normally the worst.
The controversial album title would suggest the album would heavily focus on race, but this is no Kendrick Lamar LP.  Young Fathers do bring up the line, and the idea that Africa gives our Western culture lots of great things, and receives little back, on track Old Rock N Roll.  The band do this by creating a mesmerizing mix of charged lyrics with the gorgeous tribal drums and stringy guitars, to showcase what music Africa has given us.  The African influences stick for a few tracks too.  Nest which features grand piano and Lion King-like chanting in the background continues the African feel, and honestly feels a bit like a Nina Simone tune at times, it feels vintage.  Liberated uses the Leith Congregational Choir again to help with the extra voices and sunny sound.
The album finishes in pretty spectacular fashion too, with Get Started being, as the band describe, the universe getting laid for the first time.  It's certainly a closing four minutes that an album of this magnitude sonically and creatively deserves.
- Scott Hastie
White Men Are Black Men Too is out now via Big Dada and is available on 12" vinyl, CD, cassette tape and digital download here.
Make sure you check out their current UK tour, as you're not going to want to miss the madness that these songs will bring out in crowds when they're performed live.  The band play Neu! Reekie!'s #UntitledLive at Edinburgh's Central Hall on June 9th. Tickets available here.